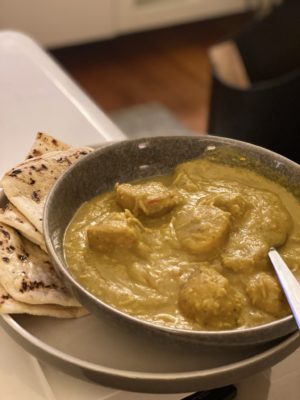 Recipe: Cauli Chicken Korma
Ingredients;
Curry Sauce:
1 whole cauliflower roughly broken up
1 small head of broccoli broken up
2 medium carrots chopped up
500ml Chicken Bone Broth or stock
1 tbsp turmeric
1 tsp cayenne
1 tsp rosemary
1 clove of garlic grated
Salt and Pepper
1 cup Unsweetened Almond and Coconut Milk use more if it's too thick you want a Dahl or thick korma consistency
Curry Ingredients:
1 chicken breast cubed
6 small potatoes quartered
1 red chilli sliced
1/2 cup of dried coconut toasted
1 tbsp fish sauce
Method:
Put all of the sauce ingredients, except the milk, in a pan and bring to the boil  simmer for around 20mins until cauliflower and broccoli break up easily.  Allow to cool and then whiz up with a stick blender or blender adding the milk as you do.
I used a slow cooker to bring together the curry – you can use a pan just as easily.
Slow cooker method – put all the ingredients and the sauce into a slow cooker for three hours or until your chicken is cooked and your potatoes are softened.
Serve with rice or naan or both!!! Enjoy you've nearly had your 5 veggies a day with this one!