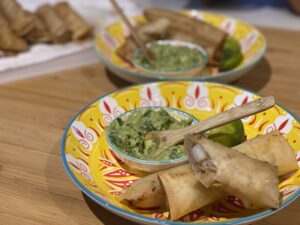 Pork & Prawn Spring Rolls w. Avocado dipping sauce

I am a spring roll addict! Get me some help!! And now I finally know how easy they are to make I'll be unstoppable Yum!! You can use any filling you like just change out the mince and prawn for similar textures i.e. mushrooms and cabbage or carrot etc
Ingredients:
1 pack of spring roll wrappers (I got mine from the freezer section at our local store)

Cornflour slurry – 1 tbsp cornflour 1 tbsp water (to seal)

Vegetable oil to fry in approx. 400ml depending on your pot
Filling:
250 grams pork mince

250 grams prawns chopped roughly

1 small can of bean sprouts roughly chopped

1 tbsp Sriracha (or your choice of chilli sauce)

1 tbsp soy sauce

1 tbsp Sweet Chilli Sauce

Pinch S & P
Avocado Sauce:
Handful of coriander

1 avocado

Half a lime juiced (plus segments to serve)

1 tbsp Green Chilli Sriracha

Pinch S & P

1 tbsp EVOL
Method:
Mix all of the filling ingredients together

Place your spring roll wrapper with a corner facing you (so the triangle is pointing to your belly!)

Put 2 tbsp's of filling in the middle of the triangle nearest you

Fold over the triangle to the middle and squish your filling into a spring roll cylinder shape

Roll over to the middle and then fold your left and right corners in over your cylinder and roll up again

Wash the final edge with the cornflower slurry and finish rolling

Place on a board whilst you keep rolling!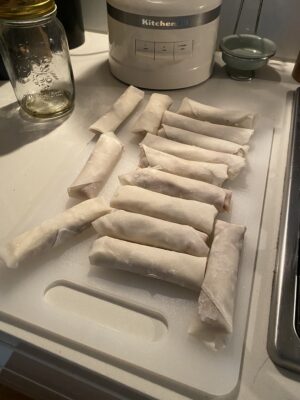 Heat up your oil, I used vegetable oil in a wider flat pan with a lid to try and minimize splashes – be scientific and use a thermometer or I like to pop a small piece of bread in when it's frying it's ready to go!

Cook on each side for 3 mins and pop on kitchen towel to drain any extra oil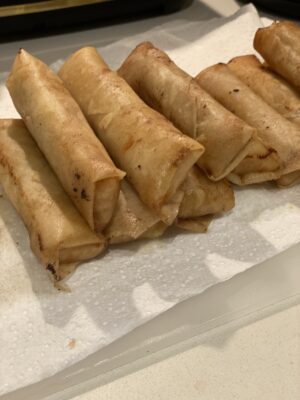 Whiz up the Avocado sauce ingredients and pop in bowls with some extra lime wedges to serve

Dip and Enjoy!