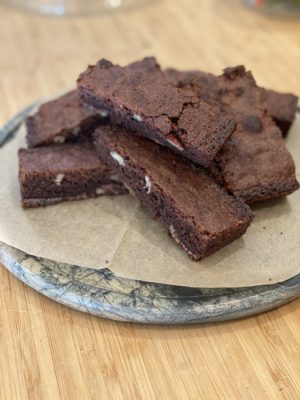 Gluten free crispy gooey pecan choccie  brownies
Possibly the best brownies EVER!!! And they are Gluten Free!!
Ingredients;
3/4 cup soft butter

1/2 cup of roughly chopped pecans

1/2 cup brown sugar

1 tsp vanilla extract

3 eggs

1/2 cup cocoa powder

1 cup caster sugar

1/2 cup gluten free flour

75 grams milk chocolate chips
Method;
Preheat the oven to 180 degrees

Use a spray oil to grease a medium sized shallow tray – I use a disposable foil tray

Mix the soft butter and sugars and the vanilla extract

Add the eggs and then combine the

 cocoa and flour

Add the chocolate chips and pecans

Pour in to the prepared tray and bake for 30 minutes till just firm and a slight bubble crust has appeared at edges

Allow to cool if you can!!!!