Breakfast Pies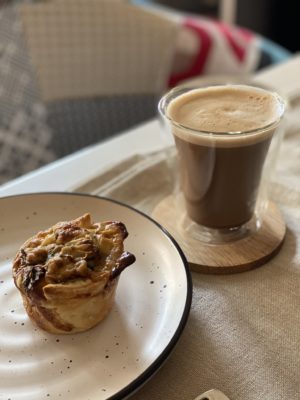 Makes four
Ingredients:
– 1 sheet of puff pastry – cut into 4 square pieces
– 3 eggs
– 3 slices of bacon, fat cut off and cut into cubes
– 2 big mushrooms sliced
– Handful of spinach
– Quarter of an onion sliced
– 200gs of Feta crumbled
– Small amount of grated parmesan
– S&P
Method:
Pre heat your oven at 180 degrees.
Spray or grease a muffin tin and fit the puff pastry squares into the pots, they will fold over a bit but try and not to break the pastry and then once snug gently stab with a fork in several places. Blind bake your bases for 15 mins or until starting to slightly brown.
Put bacon in a pan with a touch of oil on a medium heat for 3 mins then add the onion for a few minutes, then add the mushrooms for two minutes.  Finish with the spinach in the pan and turn the heat off and leave to one side.
Once bases are par baked mix three eggs and the feta into the mix and add salt and pepper.  Use a quarter cup measure to fill the bases to the top with a mix of all the ingredients and the sprinkle Parmesan on top.
Bake for 25 minutes or until the filling is brown and firm.
Enjoy!! You can change up the fillings with tomatoes, prosciutto,  ham, different mushrooms and cheese.