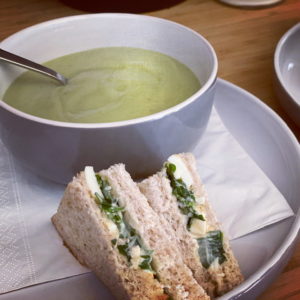 Cauliflower & Broccoli Soup
Ingredients;
– 1 small head of cauliflower broken into florets
– 1 small head of broccoli broken into pieces
– 3 cups of chicken stock
– 1/4tsp dried or fresh rosemary
– pinch of garlic salt
Method:
Put everything into a pan and bring to the boil, make sure fluid is covering 2/3rds of the vegetables.  Simmer for 15 mins and check vegetables are softened but not mushy.
Use a stick blender to purée everything into to a thick creamy soup, add a touch of almond milk or cream if you like.
Serve with crusty bread or a fab egg salad sandwich.