Pasta – the best fast food ever! My absolute 'go to' for a quick simple lunch or dinner! I adore shopping the aisles of pasta with a million shapes and sizes and colours to play with! After spending a fair bit of time with back to basics Italian cookbooks I now understand that pasta shouldn't have 10 complex ingredients – just fresh and simple!
My chilli prawn pasta has only 5 ingredients;
Pasta – your choice, a spaghetti, tagliatelli or long permed spaghetti like this one!!
Chilli – finely chopped – seeds and all
Prawns – shelled and de-pooped! I found it is easier to buy raw prawns as these are much easier to des-hell and pull out the whole poop shoot!
Olive Oil – table spoon
Garlic – one clove crushed
Get your pasta on with plenty of salty boiling water and then in another pan place a tablespoon of olive oil, garlic and chilli in until fragrant! Chuck in your prawns and mix around until beautifully pink!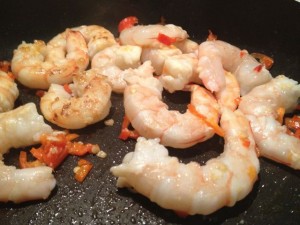 take a 1/4 cup on your pasta water out and then strain and add to pan with prawns, add a touch of the water to lubricate and then serve! Add another splash of good olive oil and a touch of salt!
Yum!!