Half Moon is back! It was rubble for a while but when they re-opened it had a whole new air of coolness about it and it looks like it is going really well. They have cleverly zoned the big space with indoor bar, outdoor seating and a bistro area plus function spaces. We usually hang in the bar or in the outdoor space but it's a bit cold tonight and the heaters can't fight it so we headed into the bistro.
The bistro is easy going, the service very good, our waiter was super keen and was happy to pick dishes for us he was such a big fan of the menu.
It's not the cheapest dinner in town but it's quality ingredients and decent portions and we are hungry so who cares! The menu is the usual suspects with a few twists, entrees are local baby Calamari, lightly fried with rocket and aioli or barramundi croquettes with lemon, dill and saffron mayo. Polenta crusted zucchini flower salad, goat's curd, mixed greens pomegranate dressing, grilled baby octopus, white peaches, chard leaves, mango and basil dressing, venison carpaccio with shaved pecorino, red onion, creamy parmesan dressing and cos salad. Raw vegetable garden "Crudités" with blue cheese dip.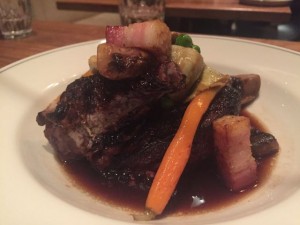 Mains are hearty winter warmers with veal schnitzel crumbed with lemon and parmesan with hot mustard slaw, Porchetta: slow roasted pork with fennel, garlic and rosemary, parmesan polenta chips and pepperonata or Classic 'coq au vin' with baby carrots, mushrooms, garden peas & bacon was just gorgeous and fellow diner just loved every bit.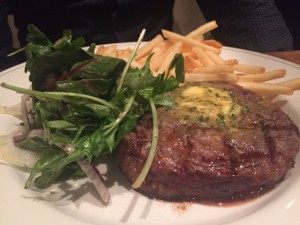 Steak Frites with grilled 220g Wilderness Beef, grass fed scotch fillet, Esk Valley frites and café de Paris butter – the boys absolutely loved every bit.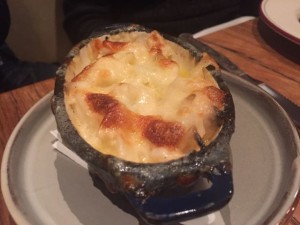 The boys also snuck in a side of potato and gruyere gratin – hell yes!!!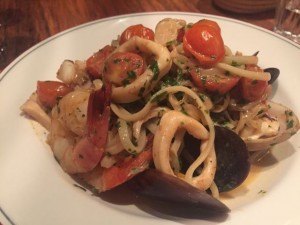 My seafood linguini white fish, local mussels, clams, chilli, lemon, garlic and olive oil – sensational, plenty of good seafood and heaps of flavour with perfectly al dente pasta – Happy days.
It's a great spot for locals and you'll get a good feed with a friendly smile!