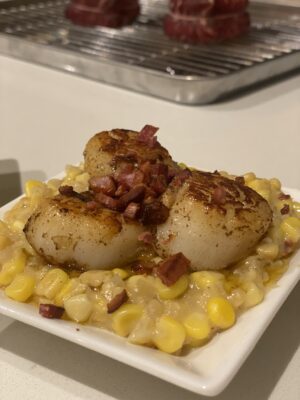 Scallops with Corn
Makes entree for two lucky people 😉
Ingredients:
6 scallops (ours were really good frozen ones thawed)

Cup of sweetcorn

Cup of creamed corn

Finely diced small onion

1/2 of bacon or speck

1/4 cup cream or milk

Pinch of chilli

S&P

Knob of butter

Tablespoon of olive oil
Method:
Whether using bacon or speck – trim the fat off and dice or batton.

Melt down half of the fat with a splash of oil and add the bacon. Go super gnarly and save half on some kitchen towel.

Add the onion with salt, pepper and chilli flakes to same pan with the leftover fat

Add corn, creamed corn and cream or milk and bring to a bubble

In a separate pan heat up hot with remaining fat oil and butter and then add the scallops

Caramalise on both sides, about 3 minutes each.

Serve with corn on the base and add the scallops on top and the burnt butter and crispy bacon bits on top

Enjoy!