Everyones Potato Salad – because the recipe is from all the potato salads I have had!!! Taken the best bits and created my absolute favourite.
Ingredients
400grams New potatoes

1/2 cup of parsley

2 tablespoons Greek yoghurt

1 tsp Apple cider vinegar

1 garlic clove

1 teaspoon of Wholegrain mustard

1 dessert spoon salad cream

1 dessert spoon of kewpie mayo

Half a lemon zest and juice

Salt and pepper
Method
Cut potatoes into halves or quarters and boil on salted water until softened – approx 12 mins

Whiz all other ingredients together

Strain and cool potatoes once cooked

Mix potatoes and dressing together
Simple!!!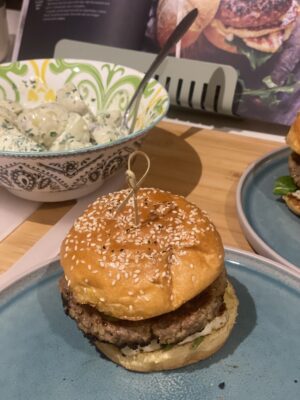 Match with any of your fave bbq, schnitzel, burger, sandwich …… anything really!!!