Apparently Demitri's Feast has been serving up fabulous Greek food on Swan Street forever! Well I finally got with the program and I am very glad I did, get yourself to the back courtyard and sit back and feast on modern, unpretentious Greek fare with super friendly relaxed service, it's like you rocked up to Demitri's house and he is cooking for his friends…. But you still have to pay!!
The menu isn't huge, the servings are generous so you don't need to overdo it, pick on some beautiful olives or cauliflower popcorn whilst you debate how much you can actually eat!!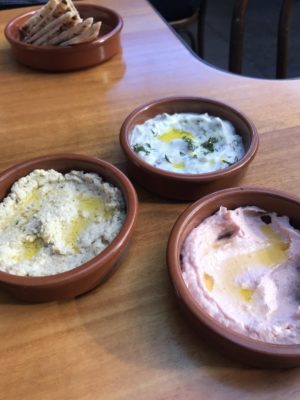 The dips and pita were heavenly, gluten free pita available – big smiles and 50/50 portion so hubby was smiling too!! The tarama was whipped pink loveliness, creamy, amazing hummus and the tzatziki fresh and zingy – they were hoovered up with hungry precision and hubby made his usual carb loading mistake of ordering another round!!!
Simply described on the menu as 'Potatoes fried, with oregano salt' these were actually the best chips in town!! Hoovered those up too!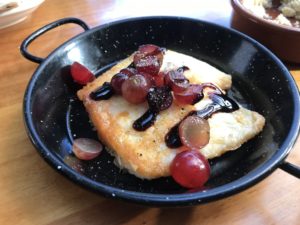 Other picky dishes include gigantes beans with feta, spanakopita and orcourse the glorious cheese fest of saganaki! Hit me up baby!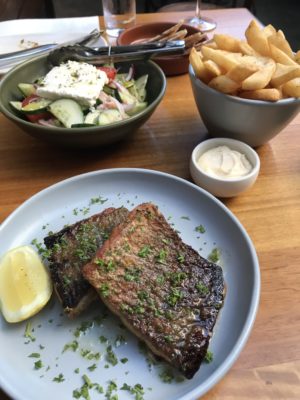 Bigger meaty dishes cover all the good stuff including 'Lamb Bifteki', herbed lamb mince patties, 'Kotopoulo' – Marinated Grilled Chicken Skewers, Pork Meatballs and 'Paidakia' – Lamb Cutlets plus a little 'Pastitio' – Greek Lasagna with béchamel hmmmmm all of the above please!! BUT no! We didn't, we went to the sea and with choices including Grilled King Prawns, Calamari grilled, Fritti Misti with Fried Calamari, Prawns, Fish or the special for the night crispy skinned barramundi…. Hands down best fish I have had in ages!!  Partnered with a simple but perfect Greek salad and dinner was outstanding….. until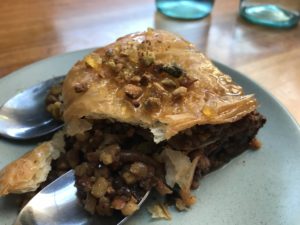 The homemade baklava arrived!! A big old slab of Greek love at it's finest! I was way past full and yet I couldn't stop eating, I would go past and just pick up one of those every Saturday if I lived nearby! One of the nicest meals I've had in Melbourne for a while J