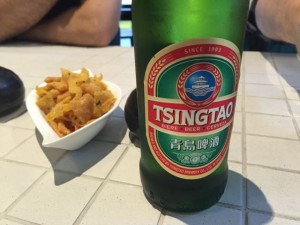 Give me all your dumplings… and all your hugs and kisses too! I do love a good dumpling or two and East has popped up on Little Collins just under the Sofitel in a space I couldn't tell you what it was before but I am loving it. It's a cool fit out, plenty of space and light, tables big enough to get all those dumplings baskets lined up and the friendliest service ever!
The menu is a long list of dumpling wonder… I'm not kidding….
Premium Steamed Black Truffle Juicy Pork Dumpling(Black Truffle Xiao Long Bao)
Steamed pork & prawn dumplings with Crab Roe & Black Truffle
Signature Steamed Juicy Pork Dumpling(Xiao Long Bao)
Signature Wantons in Chilli Sauce
Steamed BBQ Pork Buns
Steamed Prawn Dumpling
Steamed Pork&Prawn Dumpling
Steamed Chicken&Prawn Dumpling
Steamed Scallop Dumpling
Steamed Garlic Chives Prawn Dumplings
Steamed Pork&Prawn Dumplings with Ginger and Spring Onion
Steamed Dumpling Basket- Prawn Dumplings,Garlic Chives Prawn Dumplings,Scallop Dumplings, Pork&Prawn Dumplings
Duck Meat Dumpling
Vegetarian Dumplings
Chopsticks Prawn Spring Rolls
Duck Meat Spring Rolls
Vegetarian Spring Rolls
Deep Fried Bean Curd Skin Prawn Rolls
Shredded Turnip Pasries
Sesame Prawns Toast
… just a few to choose from! There are also a heap of other dishes with school prawns, tofu, ribs, rice, noodles, duck, chicken…. Seriously how can I choose?!
But we have too, a cold beer is first up and perfect with some little salty edamame.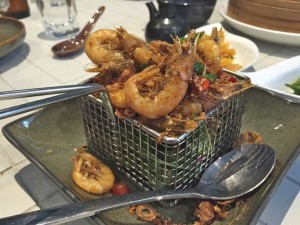 The crispy school prawns were everything they promised to be, maybe a little bit of lettuce padding in that basket to make it look like a bigger serve but it's all ok we had plenty of food!!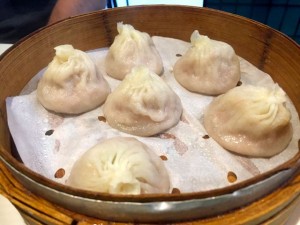 The Signature Steamed Juicy Pork Dumpling(Xiao Long Bao) were amazing, I was impressed with my friends ability to snap one of those bad boys out of the basket – with chopsticks no less. I carefully coerced mine off the paper with sticks and a spoon, you don't want it to burst and lose all the good stuff! But be warned, you do want to pop it in a spoon and let some of that good stuff out because it is damn hot!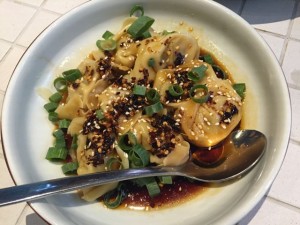 Signature Wantons in Chilli Sauce – perfection, straight from their Hu Tong sister this is a bowl of heat that I love very much.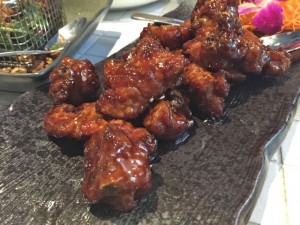 Signature Shanghainess Pork Spare Ribs were little nuggets of sticky pork bites, just gnaw them off the bones and don't waste your napkins until you are finished!!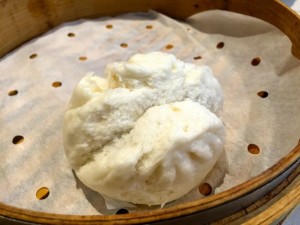 Pork buns – legendary! Super hot, lovely sweet pork in those perfect fluffy clouds.
And then you might want another little cold Tsingtao and some dessert!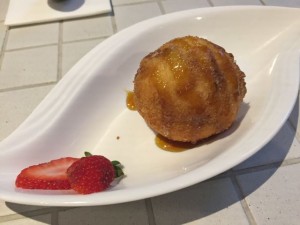 Ice Cream Tempura Ball – not my thing, clever technique but… no!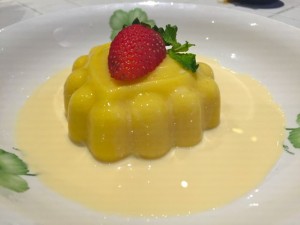 Mango Pudding – YES! A thousand times YES!! Loved this little wobbly mound of smooth mango loveliness with a little moat of condensed milk, total kiddie comfort food!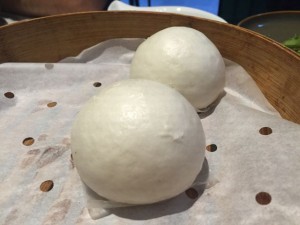 Steamed Egg Custard Buns – you must let these little beauties cool down! But once you do there is a wonderful ochre yellow filling that's not too sweet and just lovely!
East was pretty quiet when we dropped by but I have no doubt word will be out very soon and you may struggle to get a seat, but if you do it's very much worth it!