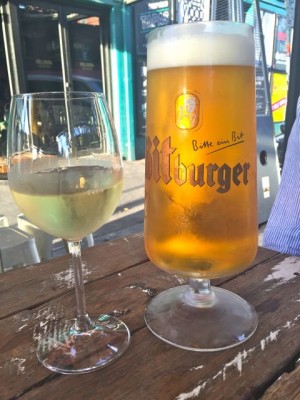 It's always great to try somewhere new, especially when they are kind enough to invite you down and look after you like a rockstar! Palinka Bar on Brunswick Street is a Hungarian Tapas Bar – not often we enjoy that one and we really did enjoy! The staff were the loveliest, super friendly, know all about the food and drink they are serving and will do anything to make your night go well. There is a lovely area to sit out the front and enjoy the balmy evening weather…. Unless the dirty smokers turn up – they you are better off going inside!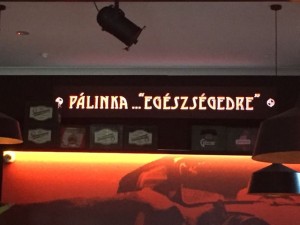 The menu is split between two price points under 'Yummy' and 'Fancy', yummy are smaller serves at $8.50 but good size portions to share and lots of great dishes to from like cauliflower pecorino and herb croquettes, chicken schnitzel, barbequed Balkan beef and lamb skinless sausages, meatballs, fried camembert or mushrooms with goat cheese. Fancy are larger dishes at $12.50 with slow roasted lamb ribs, stroganoff, chicken and bacon Brassói or spiced chicken salad to name a few! We went with some of the recommended dishes and it was fantastic!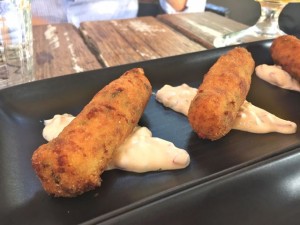 Cauliflower pecorino and herb croquettes were just gorgeous, thick, oozy and full of flavour.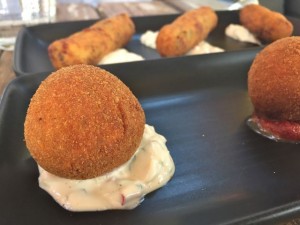 Dalmation Meatballs – Beef and lamb mince balls peppered with a coating of cheese, capsicum, coriander and parsley.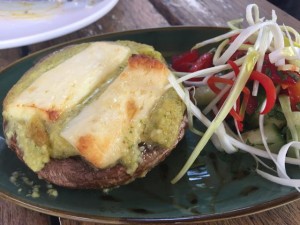 The special mushroom with pesto and halloumi sounded like my perfect dish and it didn't disappoint – that pesto was amazing, Ijoked that I might just have to steal the recipe but they weren't giving it up!!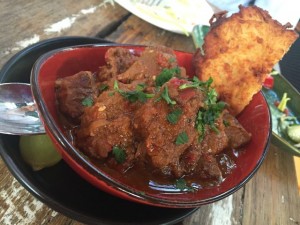 Hungarian beef goulash – 6 hour slow cooked beef seasoned with onion, tomato, capsicum, Hungarian sweet paprika with a potato latke and a pickle! Melt in the mouth tender, so much flavour and I didn't want it to end.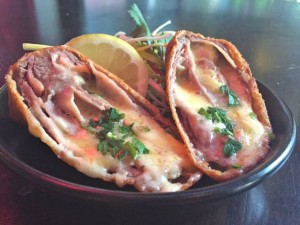 Mini cordon bleu was not something I have ever tried – a tenderised Eye fillet rolled with Grandma's ham and melted mozzarella. The flavour of the ham and the cheese was the best thing ever!!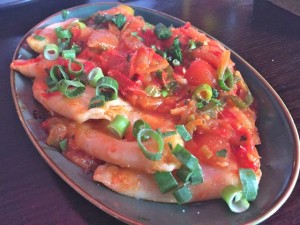 Verenyky – Russian potato and onion dumplings tossed in a lecso sauce. That sauce epitomised the flavours for me tonight with peppers cooked down in tomato and paprika and with so much flavour this was a fab dish, hubby was just spooning up the sauce and eating it without the dumplings!!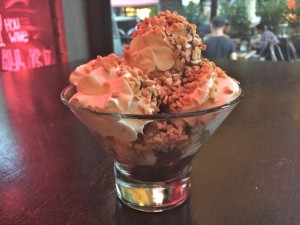 Dessert – because we haven't eaten enough!! The Somloi Galushka with house made sponge layered with walnut, Belgian cocoa and creme anglaise, topped with fresh cream and dark chocolate sauce was like a Hungarian Tiramisu, so decadently devilish, I am slowly becoming a dessert convert!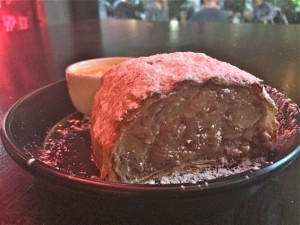 Apple strudel with apple and walnut baked in filo pastry and served with a little custard – seriously damn good! I could eat this right now!!
It was the nicest night, there is a lot of heart in Palinka Bar and it's a relaxed spot to enjoy some Euro style food and drink. We can't wait to come back!