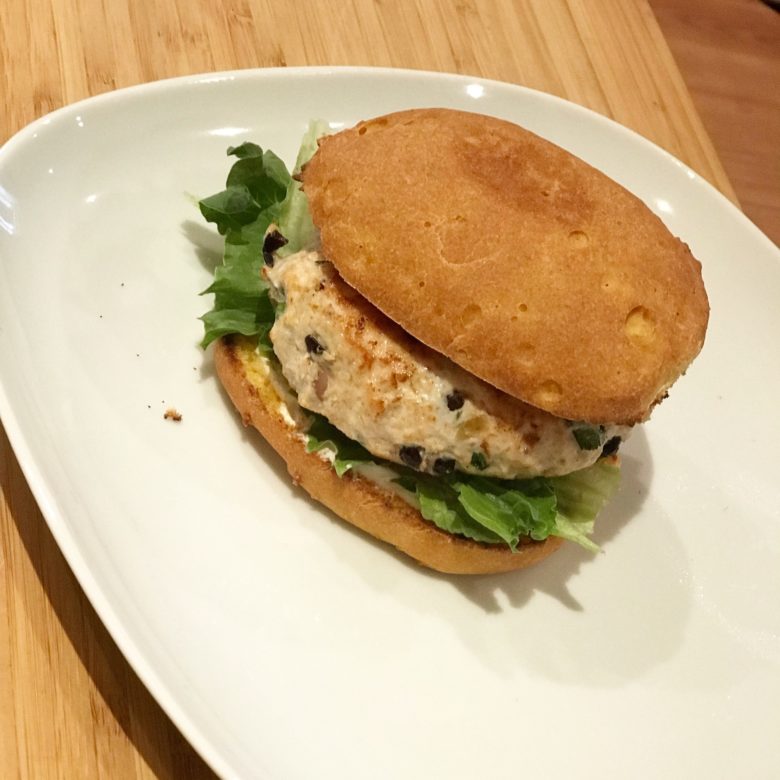 It's awesome when you make a little something in the kitchen for lunch and it's so awesome you want to share with everyone! Mexican Chicken burgers with black beans and tomato salsa – get on this!!
Makes 4 burgers – two for lunch and two for tomorrow's lunch!
Ingredients:
Burgers;
1 x 400gram pack of chicken mince
1 tbsp pickled jalapeños
1/2 tin of black beans washed
1/4 bunch of coriander
1 tbsp Mexican Spice Mix – I make my own but use any good shop bought
Salsa:
1/2 pack of cherry tomatoes
Half of the coriander (above)
1/2 a small red onion diced
Squeeze of lime
Pinch of salt
To Serve:
Buns of your choice
Fresh iceberg lettuce
Sour cream / Mayo with a little hot sauce if you like
Method:
Mix the chicken mince with the Mexican spice mix and put in the fridge for 30.
Quarter the tomatoes and mix with the onion and finely chopped coriander and add a little squeeze of lime and salt. Leave to one side.
Mash the washed beans and add to the chicken with the chopped jalapeños and coriander- I find it easier to wear gloves and mix by hand as it's a sticky mix.
Have your frying pan ready with a touch of oil and then split your mix into two and then split again to made four tennis balls. Mould into a burger shape and fry on a medium heat for about 9 mins per side, I always cut mine open to check when done – don't mess with chicken!!
Prep your buns with a smear of sour cream, lettuce, salsa and your gorgeous burger!

Too easy! Enjoy ?