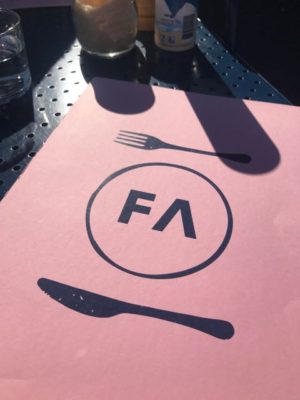 On an unassuming corner of Albert Park is now a dude called Fat Albert, once a fat kid in the early 2000's, this Fat Albert is now a super slick, super yummy brunch spot for Foodie Fridays to hit up and sit in the sun and enjoy.
The menu is eclectic with a mix of the old and the unusual, porridge is Apple Crumble Porridge with buckwheat, quinoa, oats and caramalised apples with a rhubarb gel. The House granola comes with mixed berry compote and a passionfruit and vanilla mousse and sides can include caramel glazed pork belly and kaffir lime hollandaise!
Something more options include Umama Ramen, Chicken Katsu Sando, Cardini Salad with bacon, frisse, kipfler potatoes, poached eggs and chicken YUM!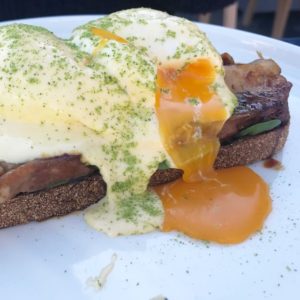 Hubby was to the Fat Benny – the caramelised pork belly was super melt in your mouth though very rich by the end of the plate – poor hubby struggled to finish!! The pork belly comes with poached eggs on toast and the kaffir lime hollandaise – sensational!!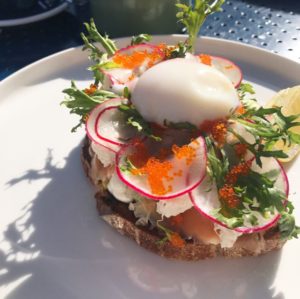 I was strangely drawn to the California Toast, not my usual brunch choice but anything with crab will usually spike my attention. My toast was beautifully adorned with avocado, cured salmon, blue swimmer crab, mayo, tobiko, nori paste and a slow poached egg drizzled with wasabi oil! Fabulously wonderfully gorgeous!!! I was super happy, the crab portion was generous, the salmon was lovely and everything else came together for one of the best brunch dishes I have had in ages.
I can't wait to go back to try some more on the menu!