Dear FoodieAboutTown would you like to come on a Chocolate walking tour?…..
….our answer should always be Yes!
We were kindly invited to join the Chocolate Walking Tours a couple of weeks ago and I have to say it was one of the best ways to spend a Saturday afternoon. Apart from the luscious amounts of chocolate you also get to explore a little bit more of Melbourne that you might not have realised existed, get down those laneways and get your chocolate on!
Amanda was our tour guide and choccie afficionado for the day and she was fantastic, a true chocoholic and packed full of the knowledge, she was like the London cabbie equivalent of the chocolate world! Thoroughly impressed with her amazing ability to actually herd cats!! Well people filling up on sugar are just as hard to control through Melbourne!
The Chocolate Walking Tours – what a brilliant idea, give someone some cash and in return they will take you on a little tour of some of Melbourne's finest chocolate eating spots and your tour includes free samples, insightful information, selected discounts and a guaranteed good time and full tum!
We started off at Federation Square, look for the lovely lady with the big lollipop stick that says 'Chocolate Walking Tours' and join your fellow chocolate fiends for an afternoon of fun. First sample of choc issued straight away just in case anyone is in need of an immediate chocolate fix – a lovely little couverture chocolate heart from Yarra Valley Chocolaterie (see Yarra Valley Chocolaterie). You will learn a lot about the seemingly simple world of chocolate, firstly the difference between real couverture chocolate and the confectionary you buy from the mass producers like Cadbury, Mars and Nestle. Couverture contains a much higher percentage of real cocoa butter as opposed to the average bar you buy to nibble on the couch on a Saturday night that has a lot of the beautiful cocoa butter stripped out and replaced with cheaper fats to ensure their chocolate lasts on the shelves of your favourite store. I am a total convert, I have gone from 'not a huge fan of chocolate' to chocolate fanatic in just 2 hours!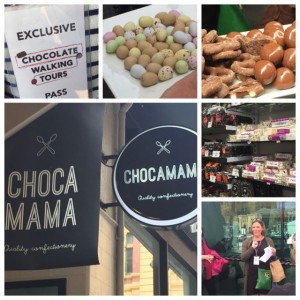 So stop number one is Chocamama a cute little chocolate and lolly shop down Degraves Street, which by the way is a hub of foodie activity with all kinds of loveliness going on with a queue out of the door for Donut Time, Little Cupcakes, Italian, Burgers and more – who knew this was all here in one tiny little cobbled street! It's not a huge shop but it is packed ceiling for floor with sweet treats for all. This is where the first awkward question comes up….. "Who likes white chocolate?" So I am a huge fan of white chocolate, both the horrific no where near chocolate confectionary and the white chocolate sold by fine purveyors such as Chocamama. I learn a little more and though my Milky Bar buttons have never been near a cocoa been white chocolate from your favourite chocolate maker is made with cocoa butter and after trying quite a few that afternoon I am now totally addicted including the white chocolate raspberry jubes I bought here!!
Our chocolate treats to try at Chocamama were the most gorgeous sweet, salty chocolate covered pretzels, big malty biscuit balls and as a special Easter treat – speckled choccie eggs! It's a great start and I am diving into the chocolate with no consideration for the calories – what the hell, we'll be good tomorrow!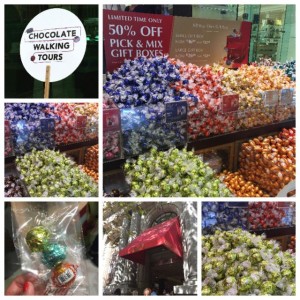 Stop two is the big Lindt shop on Bourke (see website), not somewhere I would have thought to go but it is lovely, a big bright café packed full of balls, hot choc, cakes and a whole heap of big old choccie bunnies at this time of year. We get a little bag of Lindt balls to try and I have only had a milk chocolate one or a dark choc but there are lots and lots to try.
Including my new addiction – Lindt white chocolate lemon balls……………. Oh and the Lindt white chocolate balls …. Oh and the Lindt Stracciatella balls………….. their white chocolate is the BOMB!! You can fill a bag, box or BIG box with all your favourite Lindt balls and there was a special offer on the day even better than the normal Walking Tours discount with 50% off – people are crazy for those boxes of balls and I can see why!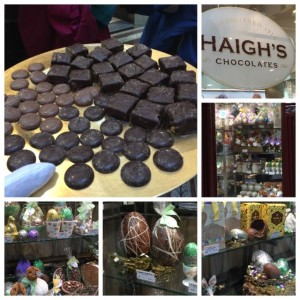 Next stop is Haigh's (see website) Celebrating 100 years of family owned chocolate dominance Haigh's is found in the Block Arcade, I would pay to just hear the stories about the Block Arcade, you walk around Melbourne everyday and never know the history and secrets of this wonderful city! Haigh's is a great story of tradition handed down through the generations to ensure 100 years later Haigh's is still very much a family business bringing Australia top quality chocolate as well as ensuring their business gives back to the community with initiatives like the Murray Cod and the Bilbie chocolates helping support endangered species with the proceeds of their chocolate sales.
Haigh's are especially generous to the Walking Tour peeps with a great special discount plus milk and dark chocolate pastilles as well as a taste of their exclusive Easter Hot Cross bun truffle – OMG chocolate overload is starting to hit! I don't eat a lot of chocolate and this is all so rich and decadent and wonderful! The truffle sends me over the edge, in a wonderful way that I have to wrap the other half up for later – we still have lots more stops to go!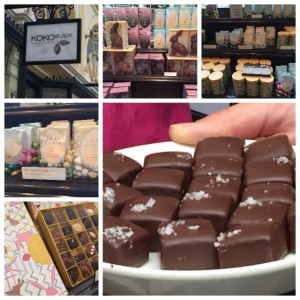 Koko Black's in The Strand Arcade (see website) is a hive of activity with very clever people enjoying Koko Black treats and buying up their divine chocolate. Here we have to change to sharing a treat between the two of us, I have hit the chocolate wall!! BUT the salted caramel chocolate is sensational from the little nibble I had.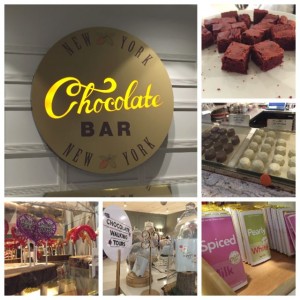 The final stop – what a couple of hours we have had! Alison Nelson's Chocolate Bar New York in Emporium is a bright space full of people enjoying hot chocs, cakes, chocolate and the heavenly chocolate brownies. We are all packed full of chocolate but there is still room to try a little of Alison's dark chocolate and the red velvet chocolate brownie.
It's been an amazing afternoon and we are really grateful for the kind invite, we would absolutely recommend you spend a little time with the Chocolate Walking Tours team and enjoy an educationally, chocolate filled time!
SPECIAL OFFER for Foodie About Town Readers
Buy 3 get 1 free
City Sightseeing Chocolate Tour bookings must use code: CITYSIGHTS
Twilight Tour Chocolate Tour bookings must use code: TWILIGHT
(valid until 31st December 2016)
Find More information at;
Instagram: https://www.instagram.com/chocolatewalkingtours Facebook: https://www.facebook.com/ChocolateWalkingTours
Website for more details: http://www.chocolatewalkingtours.com.au