Huge fan of Nigella and lets face it, she is having a bit of shit time at the moment so to show our support for an amazing woman and cook we are cooking from Nigellisima throughout August.
Recipe 11 – Eggs in Purgatory Again!
August 2015
Going back again to this fantastic breakfast dish – if you have eggs, canned tomatoes and some chilli you have a smashing breakfast in the making, just add a crunchy baguette and you will have a very happy hubby!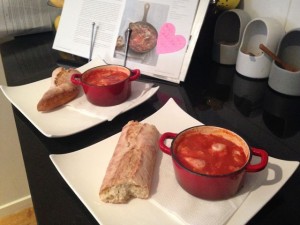 Such a great book, must go and revisit some more!
Recipe 10 – Meatzza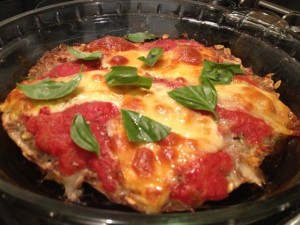 Oh Nigella, the perfect, quick and tasty Meatzza! A lovely burger style base with a lovely cheesey top!! Hubbie loved this one and with a lovely fresh fennel salad there were clean plates all around!!
Recipe 9 – Eggs in Purgatory

Inspired from a cosy night watching Nigellisima on DVD and we wake up starving on a Sunday morning with nothing in for breakfast. But wait…. I have two eggs, two slices of break and a couple of cans of tomatoes! And Whola – Nigella's eggs in purgatory! Love this in my little mini pans and the oooooozey yoke in the thick, bubbly tomatoes was fabulous! Just wish we had had a big hunk of sourdough to make it even better!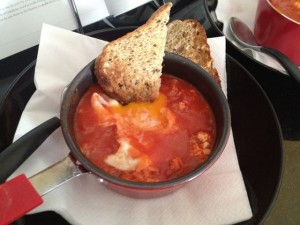 Recipe 8 – Crab Risotto
Aptus Fish at the market does the greatest little pots of gorgeous crab meat that keep for months in the fridge and are on hand for a quite and tasty dish just like Nigella's crab risotto!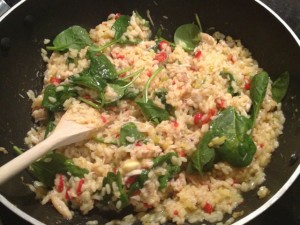 Super simple…. unless you get a little confused! Made a fantastic risotto….. but with paella rice!! So it was a little different but still tasted FAB!!!
Recipe 7 – Roast Red onions with Basil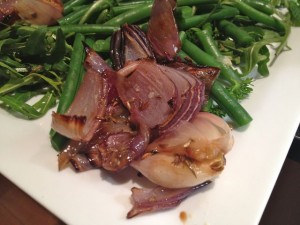 Super easy and super tasty! Loved these onions, the fennel seeds really made the flavours pop and they were perfect to finish off with recipe 6!!
Recipe 6 – Lamb Cutlets with Mint, Chilli and Golden Potatoes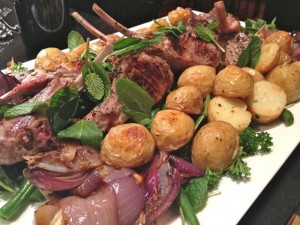 Just the BEST family dinner platter I have put up in a long time!! I used a few extra on this one to add some more green but overall I stuck to the recipe and it worked!! Gorgeous pink lamb with a hint of chilli and roasted potatoes finished off in the lamb juices! May have gotten a little too happy with the rock salt but I added al dente green beans to the rocket bed and heaps of fresh mint and parsley – perfection!! A little side of recipe 7 and this was smiles all around!!
Recipe 5 – Yellow Spaghetti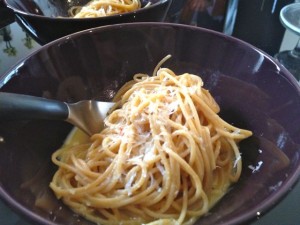 Hmmm messed this one up I think! Mistake one – wholewheat spaghetti… the taste of the spaghetti overpowered any other flavours! Mistake two – skipping the cream and masala! Possibly they were key parts to the flavour profiles! Apologies to Nigella I dis-repected the recipe on this one and it killed the dish! C'est la vie – you have to ruin a few spaghettis to learn!!
Recipe 4 – Lamb Steaks with Anchovy and Thyme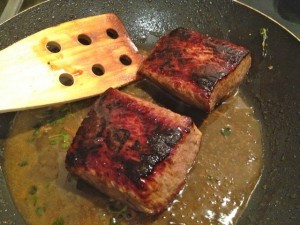 Gorgeous lamb from South Melbourne market, fillet rather than the steaks but quite possibly the best lamb I have ever cooked!! Six series of Top Chef might be starting to rub off on me!! Lamb cooked to perfection, rose pink, moist and succulent and the flavours imparted from Nigella make this the perfect partner with recipe 2 and 3!
Recipe 3 – Roast Brussels sprouts with rosemary, lemon and pecorino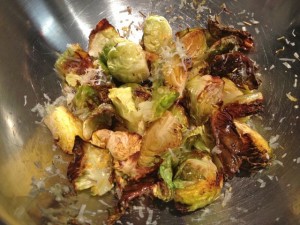 Long gone are the grey, sad, boiled to an inch of their lives brussels sprouts! Roasted they are sublime and with a little acid and spike of cheese they go to a whole new level!
Recipe 2 – Broccoli with Lemon and Parmesan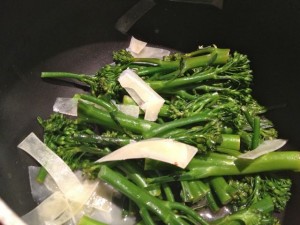 I am starting to understand the Italian secret of everything tastes better with lemon! And Parmesan!! Including this wonderful Broccolini!
Recipe 1 – Tuna, Lemon and Rocket Spaghetti

Forgot to get any rocket and I completely understood why Nigella included this, colour!! Otherwise it is a pretty neutral dish!! But still very flavourful, simple, effective and the sort of ingredients you have on hand. YUM!!