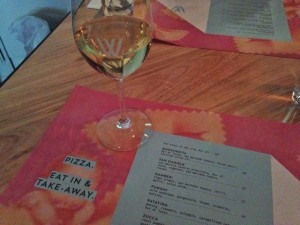 We were lucky enough to be invited to the Woody P's opening night party and we have been desperate to get back and try some more food ever since. We were also lucky to call up on a Saturday and snaffle the last table so after a hard days shopping we rock up to let Woody P feed us amazing food and poor some very lovely wine too.
The staff are great, the place was packed full but they were all gracefully sweeping through making sure everyone had water, menus, food and wine. We had a good chat about the wines and it was nice to have a recommendation for something different. The menu is fantastic, all the pizza and pasta you could want with plenty of salumi and sausage in between.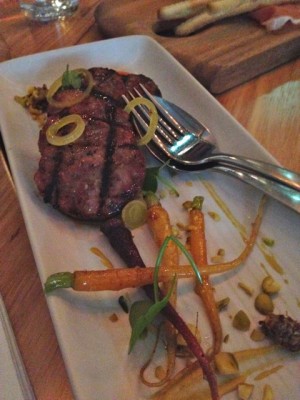 We all agreed we had to try the rabbit sausage with heirloom carrot, mustard and pistachio – a knock out dish with so much flavour that even those little carrots sang on the plate.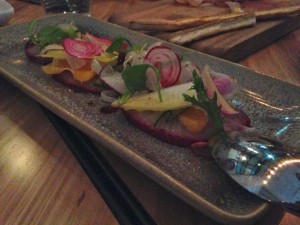 The Kingfish crudo with beetroot, mandarin and horseradish was incredibly fresh and had a lovely dance of flavours that made us all want more.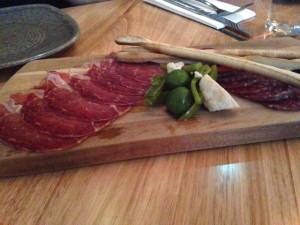 The salumi board was nice with two boards with some prosciutto and bresoala, bread sticks, pickles and olives.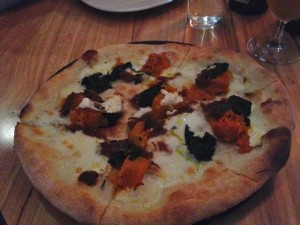 Moving onto pizza and there were the traditional with Margherita and San Daniele and some less traditional with Prawn or Slow Roasted Pork. We went down the middle with a Zucca – roast pumpkin, caramelised onion, spinach, goats curd – Amazing! Perfectly wafer thin crispy base with restrained toppings and was a delightful mouthful.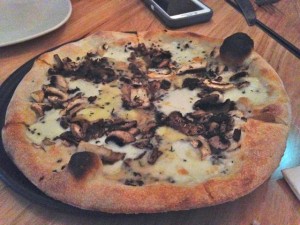 I adore a good mushroom pizza and the Funghi with wild mushroom, gorgonzola, thyme, scamorza, parsley was bloody amazing! The thyme and mushrooms were a perfect partnership with the cheese and I could have eaten this all to myself!!
But if you share you get to have dessert too! We went to three out of the four desserts and they were all sensational!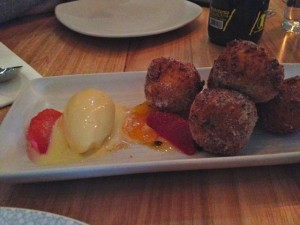 Buffalo ricotta doughnuts, passionfruit, lemon curd ice cream – oh yes! Crispy, crunchy outer with rich, steaming, doughy inner and that ice cream was delish!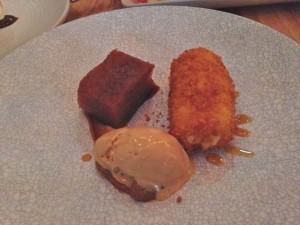 The alba whisky fried custard, apple terrine, caramel ice cream – hold cow! I had no idea what to expect but this was deliciously wicked!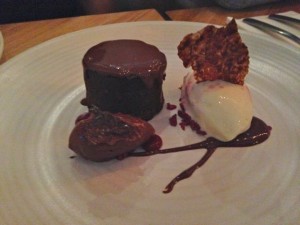 The chocolate gianduja budino with crème fraiche and sour cherry ice cream – OMG, the best flavour combo in the world and so pretty. What more could you want? Great pizza, friendly staff and some of the best desserts in town.
Woody P is a really great place to kick back, relax, enjoy some wonderful food and the bill will make you smile too!
——————————
Food 7/10
Service 7/10
Music 6/10
Toilets 6/10
——————————