Cookbook: Rick Stein From Venice to Istanbul
Recipe 3: Lamb & Pistachio Koftas
Another great example of how simple but packed full of flavour these recipes are and in a moment of desperation I do feel like we are on our exotic travels but it's just fab food from our kitchen 🙂 Pistachios – who would have thought?!
Recipe 2: Moussaka
OMGGGG Amazing moussaka, few noticeable differences from the expected version but I'd have this as my go to everytime, made enough for 10!! Few lunches to look forward too!

Recipe 1: Veal Peko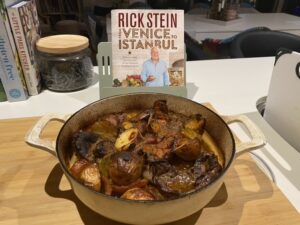 So amazing, a take on osso bucco with veal shin and veggies – did a slow cooker start and then finish in the oven for the win! Loving this book and traveling around with Rick – closest we'll get in lockdown!!!