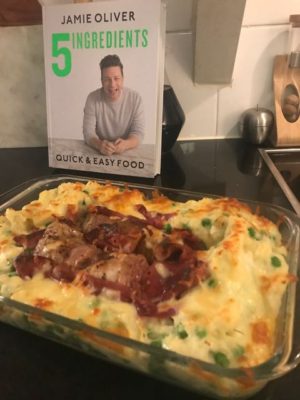 September 2021
Back on this one again! 
Recipe 1: Ginger Shakin Beef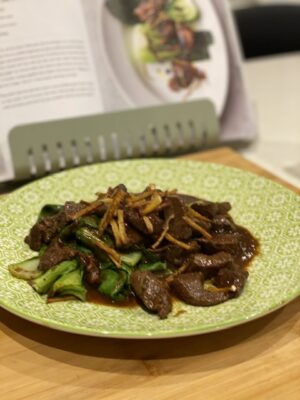 Super easy and the fried ginger is rockin! Can't go wrong with this book and with just 5 ingredients it's always fast and simple.
October 2020
This one is back off the shelf and delivering again and again!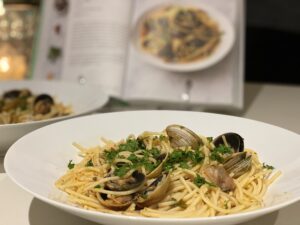 Could it look any better?! Clam Spaghetti with rosè and nduja – sensational!! And pretty simple going, we have some great frozen clams we get from an online fishy supplier and this means you can easily whip them out on a week night and feel a little bit fancy with this easy dinner  
Aug 2019
Huge fan from the beginning when he promised to be Naked! Jamie can do no wrong and after we thought we couldn't go easier than 15 minute meals we now have 5 Ingredients! Just 5! So there is some stretch in that, salt and pepper, oil and lashings of red wine vinegar aren't counted and some of the dishes need a bit of a salad or a side with them but as far as fast and easy – it's proper good!!
I have recommended this book to sooooo many people now, it's been the most cooked book of the month in our house and hubby has taken it as his bible when ensuring the tired foodie gets dinner on an evening and the dishes impress! We have made a heap but some of the favourites that will definitely be on repeat;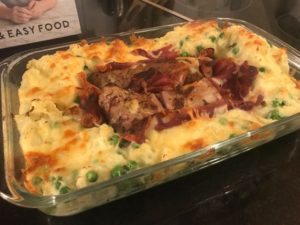 Pork and Mash Gratin- wow! I did put in a bit of caulimash and peas to pad it out a bit more but it was fab, succulent pork – smashed it!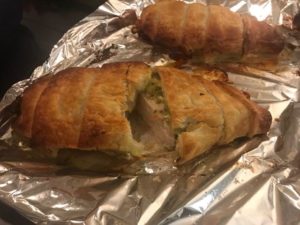 Flakey Pastry Pesto Chicken – I was a bit worried about getting the chicken cooked in the pastry but it was pounded down enough to work perfectly so the breast was still juicy and the pesto and flakey pastry – Bellissimo!!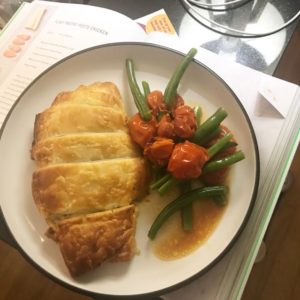 SO pretty!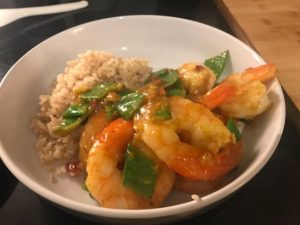 Sticky Mango Prawns – Wowsers, 5 ingredients and I am feeling super chefy!! Beautiful meaty prawns and so fast to make a dish better than any takeaway!!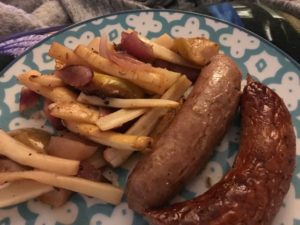 Sausage and Apple Bake – Super simple, the baked apples and parsnips have a wonderful comforting vibe and the sweetness from the apple is best friends with the sausage.  Fast with Five!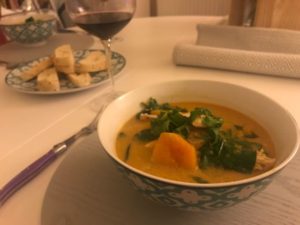 Thai Red Chicken Soup – chuck a whole chicken in a pot and forget-a-bout it! On a cold Saturday night it was a super welcome dish that kept giving all week for lunch! Genius cooking!
Have been cooking from this book for over a year now! The 
I can't stop telling everyone about this book, seriously! If you are scared of cooking – this will convert you.  If you are short on time – this will save you! If you love cooking and want some cracking recipes for a great dinner when you get home from a busy day – you got this!
You can do no wrong 🙂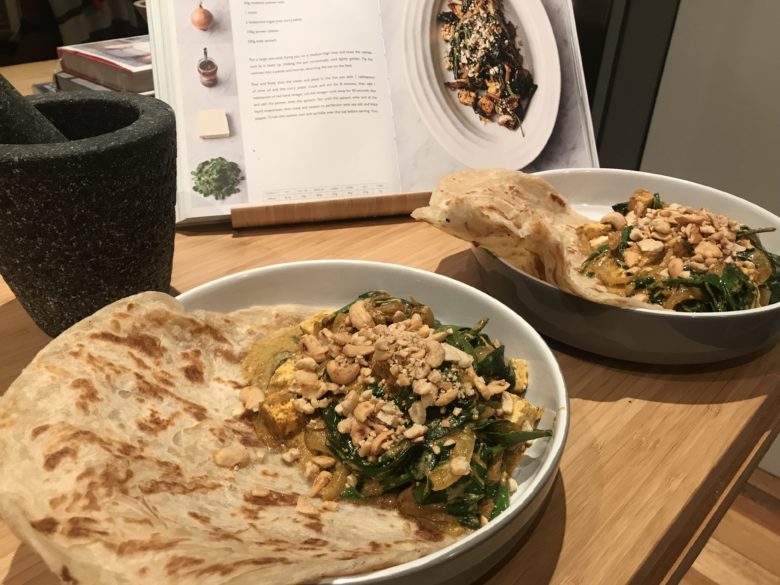 Have been cooking from this book for over a year now! The Paneer and spinach curry was another crazy good, easy dinner in less than 20 minutes.