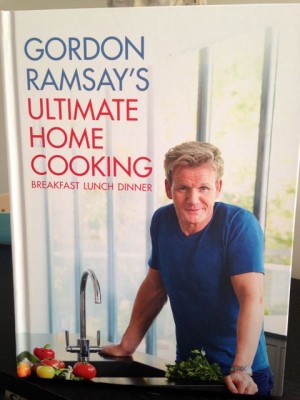 The new Gordon, no swearing and ego just a great guy with his family, cooking, laughing and helping everyone cook amazing breakfast, lunch and dinner. Some of the best recipes I have ever tried, quick and easy and packed full of flavour. This is a book you will go back to time and time again.
Recipe 17 – BBQ Style Slow Roasted Beef Brisket
Looking at this again, I want to go and get some brisket right now!! It was incredibly easy and incredibly tender.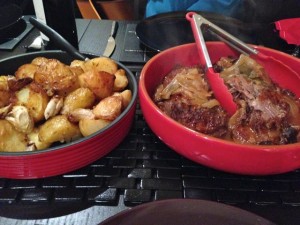 Get a big old piece of brisket, add some loving accompaniments to the mix and 3 1/2 hours later you have a dish that will make any friends gather around the table. Note – perfect with garlic roasted potatoes.
Recipe 15 and 16 – Crunchy light Slaw and Apple & Celeriac Salad

Wowsers! Raw Celeriac is fabulous, how have I never found this before? Two great salads and with more yoghurt than mayo these are light and tasty and perfect for BBQ's all over!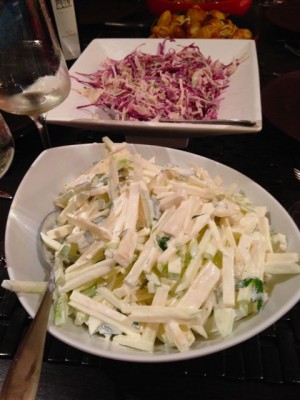 So gorgeous!
Recipe 14 – Lamb Koftas

Simply beautiful recipe for super succulent and tasty koftas. Didn't have any yoghurt so made a minty cottage cheese which was great. Oh Gordon, you've done it again!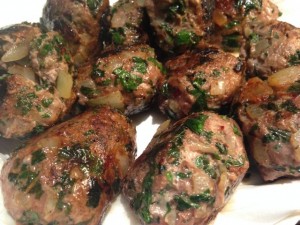 Recipe 13 – Big Caeser Salad

One of those lunches that you take to work and feel just a little bit smug whilst everyone else is munching on a cheese sandwich. This was amazing, the dressing was monumental!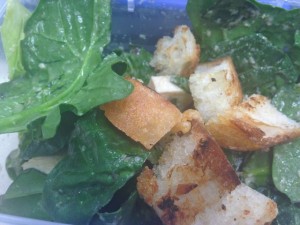 Recipe 12 – Potato and Beetroot Gratin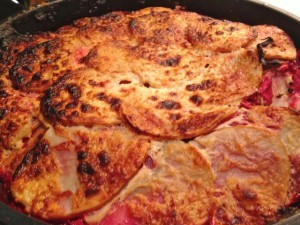 Super healthy and purple! Love beetroot and this is a great way to enjoy more veggies.
Recipe 11 – Prawn and Cucumber salad with a spicy yoghurt dressing

Loved this, leave the prawns to marinate for a little while and then rustle up a delicious healthy salad is minutes.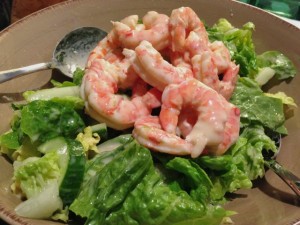 Recipe 10 – Chip Butty

A perfect indulgence with home cooked chips, dressed in paprika and a little tomato ketchup. YUM!!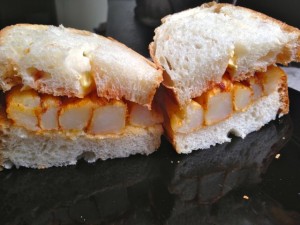 Recipe 9 – Halloumi, Courgette and Herb Cakes

OMG, so amazing! Use the processor to grate everything up, can't believe how much water came out of the veggies when I squeezed them! The salad was really good, I was a bit hesitant with the ingredients for the salad but it was gorgeous. These little cheesey, veggie cakes were fabulous, we had them for the lunch for the rest of the week!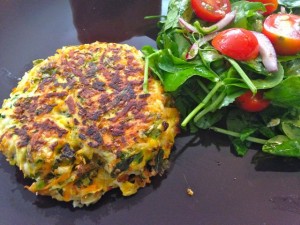 Recipe 8 – Home-made Baked Beans with Potato Cakes

Genius! Homemade baked beans are so much better, even better when you make them the day before and with fresh beans soaked the night before. So I turned Gordons quick breakie into a three day affair but they were soooo good! Top tip – microwave your spuds to cook through and then scrape out the potato to make a quick mash. This was delicious!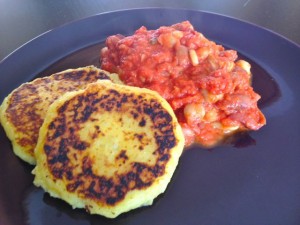 Recipe 7 – Chicken Thighs with chickpeas, peppers and lemony dressing

Getting a bit confident with this cooking stuff! Converted this to a tray bake with a splash of white wine to get the steam going and it was sensational! A bit of brown rice and I am pretty proud of myself for a hump day – too tired to cook day.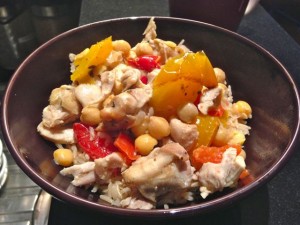 Recipe 6 – Home-made Tortilla Chips with Pico de Gallo Dip

Love, love, love! Whizzed everything up in the mini blender to save time and jalapeño handling. Tortillas took no time at all to make a big pile of smokey chips to dips in the spicy cool dip.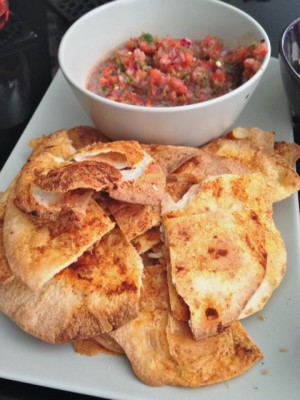 Recipe 5 – Chicken fricasse

Hubby in the kitchen and a delicious dinner is on the table after a hard days work. Great flavours and super simple Yum!!
Recipe 4 – Bircher muesli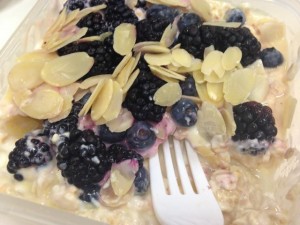 Whip up a super healthy breakie in no time – this was more inspired by Gordon's recipe but still an impressive breakie for someone who struggles most days to make sure this important start is something more than a breakfast shake!
Recipe 3 – Teriyaki salmon and soba noodles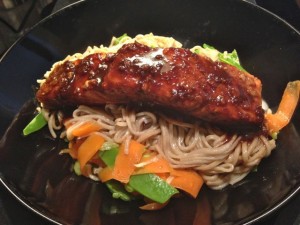 Amazing! So much flavour, so simple and fast. Quick marinade and then whip up a tasty dinner after a hard days work! The best part – I don't really like salmon and the dressing was so amazing it even converted me!!! Fabo Gordon!
Recipe 2 – Apple Compote with creamy whip

Lesson one do not stir caramel with a wooden spoon – you will end up with a massive clump of caramel on the spoon! Loved this dish with the spice of the ginger and cinnamon and deliciously sweet sugar and butters drip. Didn't make the whip but a bit of cream was a fab treat.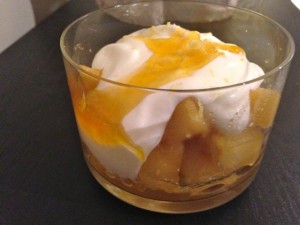 Recipe 1 – Aromatic Lamb Chops with Bulgar and Chargrilled Broccoli

Delish! The lamb was nice though the spice from the salad might have hidden the more delicate marinade on the chops. Lovely, simple and tasty. Loved the charred broccoli of the salad and an interesting dressing that worked really well.