My Petite French Kitchen Cookbook is a beautiful book from Eleanor Ozich sharing simple wholefood recipes. The book is based on the blog Eleanor created to document her 'road to simple eating'. Packed full of delicious recipes that are both healthy, simple and very tasty.
Recipe 4 – Apple and Sage Pork Cassoulet

Slow cooked and delicious, simple ingredients that come together and with a bit of sweet potato mash this is the ultimate comfort food.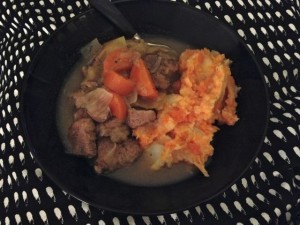 Recipe 3 – Colourful Roasted Vegetable Medley

Added in a cheeky bit of cous cous and this was not just some roasted veggies, lemon juice and basil make the perfect dish.
Recipe 2 – Green Olive, Tomato and Basil Roasted Chicken Legs

So pretty and colourful and so very delicious! Loved this dish and I had forgotten how good a drumstick could be! Great with the pop of olive and the sweetness of the cherry tomatoes.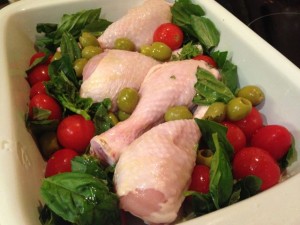 Recipe 1 – Cheddar and Quinoa Muffins with Sun Dried Tomato and Basil

Super breakie treat and great way to use up leftover quinoa, the perfect savoury treat.