One rainy Sunday we head to busy South Yarra and wait out the 30 mins to secure a table a the very popular Two Birds One Stone. It's not a huge place and the tables are bursting with happy people enjoying a great coffee and the many gorgeous dishes the menu has to offer.
Housemade bircher, yoghurt panna cotta, smashed avocado with capers, radish and feta, ham hock and beans and the very, very popular eggs benedict.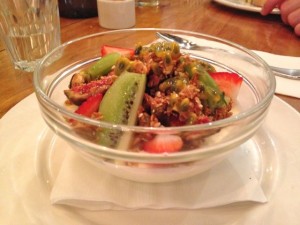 Hubby chose the yoghurt panna cotta with kaffir lime, fresh fruit and nut cluster. Beautiful, fresh and flavourful and pretty.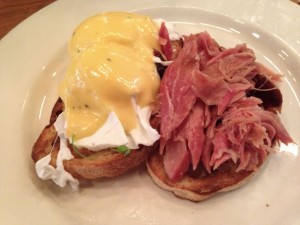 But I can tell there is some food envy going on when the eggs benedict arrives. Two plump, super gooey eggs on toast, slathered in a wonderful bearnaise and the most amazing pile of ham hock meat. Stunning! A perfect hangover cure, this is a glorious breakfast and plates were almost licked clean by the end.
Great, place, great staff, they were absolutely slammed and they handled it well turning tables and delivering coffee and great breakies with a smile.