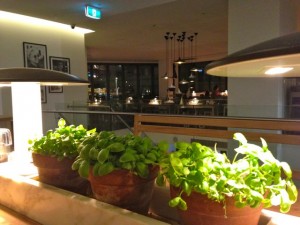 Welcome to Vapiano, a gorgeous space to meet, drink and enjoy some freshly prepared Italian fare with plenty of smiles and a decent glass of wine or two.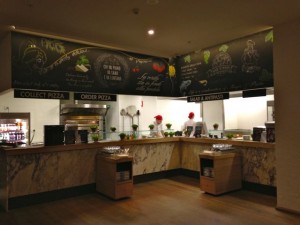 Enter from Flinders Lane and head upstairs to a surprisingly large space, all natural wood and herb pots, it is a really pleasant place to be. It's a different approach with self service, head to the bar or the pizza stand or the fresh pasta spot and order whatever your heart desires, pay on your swipe card you collect on arrival – no cash exchanged. Head back to your table and when your buzzer goes off you pick up your food. Easy as!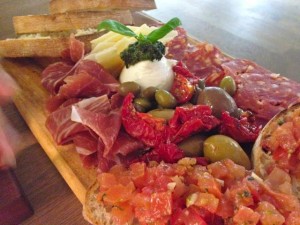 Our large antipasto is beautiful with a selection of meats – prosciutto and salami with parmesan, buffalo mozzarella, olives, sun dried tomatoes, pesto basilico and bruschetta. It was a perfect share for four and that mozzarella with the pesto was divine.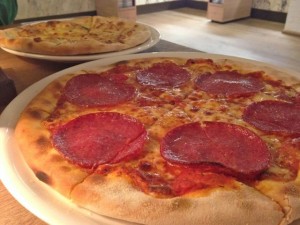 Very excited when the buzzer goes off for our pizzas, they look fabulous! Garlic pizza with a sensationally thin crispy base topped with garlic, fresh rosemary and a drizzle of olive oil – yummmmmm! Our margherita with salami, homemade tomato sauce and mozzarella – beautiful.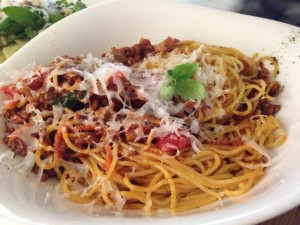 A perfect, traditional bolognese with Italian style beef and pork, onions, carrots, cherry tomatoes in a homemade tomato sauce – cannot go wrong!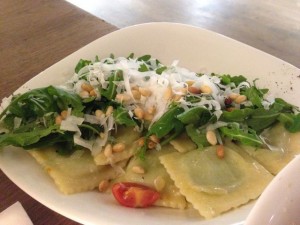 Spring fresh ravioli with rocket, parmesan and pine nuts – perfect pasta pockets with three simple toppings – text book Italian showing how you can get amazing flavours from just a few lovely, good quality ingredients.
I would definitely recommend Vapiano as the perfect place for a catch up, super relaxed, great value and plenty of space to kick back and get your Italiano on.