One of my favourite cooking shows, the cute and quirky Rachel Khoo brings a natural and fun approach to traditional French cooking, adding her own little twist on her cordon bleu training these are super simple recipes that pack a lot of flavour.
Recipe 6 – Poulet aux champignons aver une sauce au vin blanc

C'est magnifiuque!!! Loved this, super simple and the best creamy sauce ever – without heaps of cream! Mushrooms yum, penne pasta and we are all smiles and yummy noises!!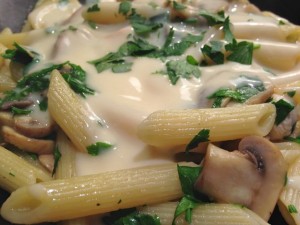 Recipe 5 – Oeufs en cocotte

Gorgeous little tea cups with gooey dunkable egg, cream and dill. So easy to make and a perfect lazy Sunday morning. For a little extra decadence we had spicy salami diced on top adn dipped croissants into ours!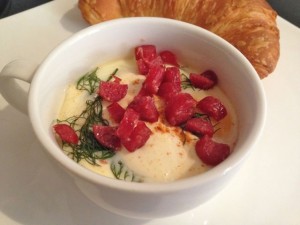 Recipe 4 – Boeuf Bourguignon avec des quenelles de baguettes

Oh yes!! Transferred this to the slow cooker for a 'made it Sunday, had it Monday dish'! The baguette dumplings are genius!!!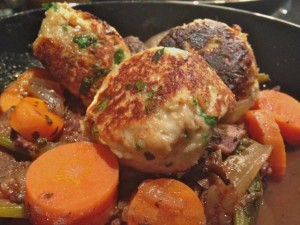 Recipe 3 – Truite en papillote

Gorgeous fresh rainbow trout wrapped in a paper parcel with lemon, fennel and potato ….. And a sneaky splash of wine. Sit back with the rest of the wine and when the timer goes, dinner is ready! Added a bit of horseradish to the sour cream – yummy!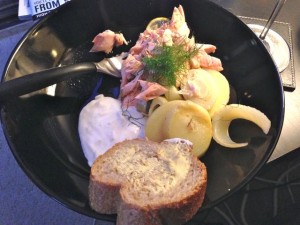 Recipe 2 – Carrot Salad & Potato and Apple salad

Super salads with a juicy steak. Carrot salad was simply lovely and the potato and apple was refreshing and tasty.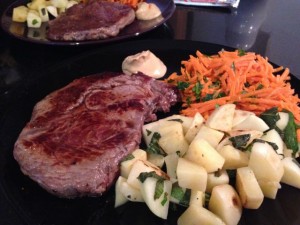 Recipe 1 – Croque Madame muffins

The best dish ever!!! So clever, easy to pull together, good for a hangover and molten hot!!!