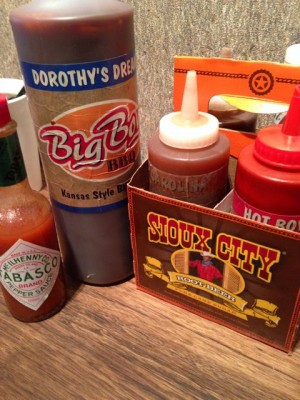 If you aren't heading to SWSW Austin this year you can still get a Texan BBQ fix! Big Boy is friendly, easy going, fast and delicious. Choose from the mouth watering menu of briskets, ribs, pulled pork and ….. Did I mention ribs!?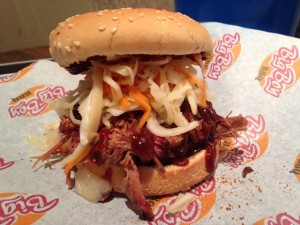 THE CAROLINA with pulled pork scotch fillet with coleslaw and BBQ sauce is a nice, not oversized bun of fun with plenty of braised pork and tangy BBQ sauce. But there are plenty of more sauce options ah Big Boy!! I also love that at every table is a massive roll of kitchen towel – we are gonna get messy!!
You can also go with THE DOROTHY – Kansas style saucy beef brisket with pickles and coleslaw. THE NEW YORKER – Beef Pastrami with Swiss cheese, mustard and pickles on rye and THE "ZEE" MAN INSPIRED BY OKLAHOMA JOES – With sliced beef brisket, smoked cheese, fried onion strings and BBQ sauce, oh yes!!!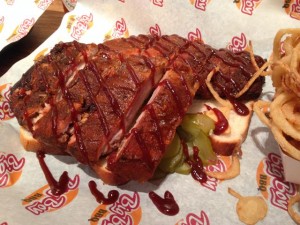 You can get messy a pile of wings or get you ribs on! Kansas City style dry rubbed pork – 1/2 rack for $29 …… So many ribs! Meat falling off the bone and doused in sticky red spicey rub – I am in love!!! My nails are dyed red and covered in spice – that will last a while!!!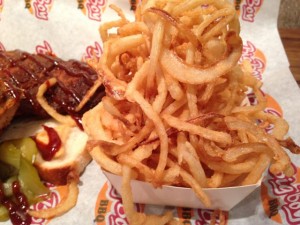 Onion strings are a pile of lovely fried naughtiness and I could finish them but we finished the ribs 😉
Eat in or take away – grab a beer while you wait for your bag of meat goodies to take home and enjoy!!