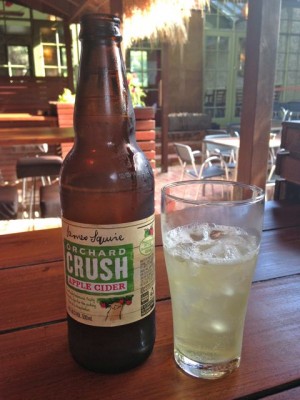 Always good to have a reliable local with a friendly smile, great menu and a sunny courtyard to relax in. The Railway has been going for a long time and it feels like they have had a bit of a change in ownership or a bit of re-do. Either way we popped in after a bit of a time away and felt very welcome to grab an icy cold cider and some very respectable pub grub!
The menu is easy going with reasonable prices, good list of nibbles with olives, dips, fritters and chicken wings. The mains are dominated by 100% Hopkins River Beef steaks with a 450g rib eye available with chips and a salad for $35 – nice!
But you can also enjoy a burger, parma, steak sandwich, fish and chips or chicken salad. It's a traditional menu of good food, done well.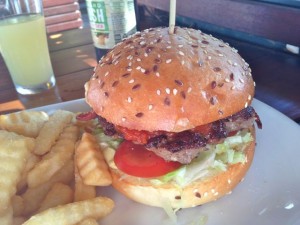 The Railway Hotel beef burger with aged cheddar, bacon, iceberg lettuce, tomato, red pepper relish, aioli on a brioche bun with chips is a bargain at $16. This was a damn good burger. Good saucing, good salad, good burger!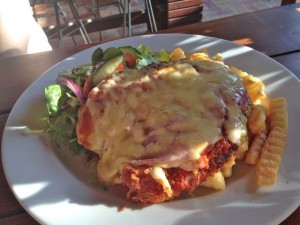 The chicken parma; a hand cut schnitzel topped with napoli sauce, leg ham our house melted cheese blend served with choice of chips & salad or chips & vege – just $20. I am not a huge parma fan, the multitude of tomato, ham, cheese and breaded chicken is all a but too much but this was nicely done. Certainly fill you up for $20!!
Good food, cold beer and a nice place to be – ticks all around for a great local!