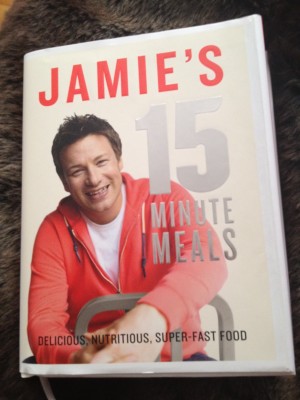 Recipe 7 – January 2014 – Sticky Kicking Chicken

Hubby back in the kitchen and beating a chicken with a little bit too much pleasure!! Love this recipe with asian inspired sticky chicken. We went for some quick brown rice on this one – delish!!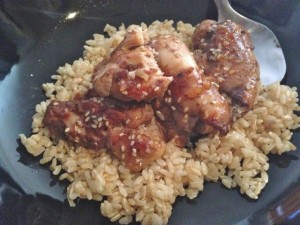 Recipe 6 – January 2014 – Chilli Con Carne Meatballs

Hubby has taken Jamie into the kitchen and we have been very spoiled! LOVED this recipe and impressed at the bulgar wheat! I never knew it was so easy!! Tasty and Fast – what more could you want!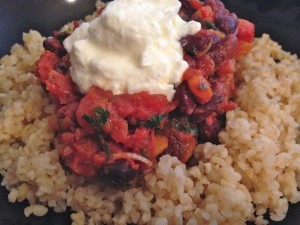 Recipe 5 – January 9th 2013 – Chicken Dim Sims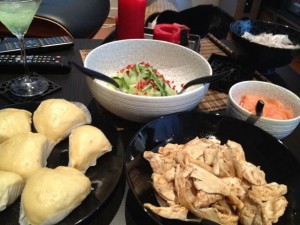 Can't stop coming back to this book for a good option for a quick, delicious and pretty healthy option for weeknight dinner! Ever since the TV show I have been wanting to try the Chicken Dim Sims with steamed coconut buns – they look and sound so amazing!! This was a bit of a disaster!! I used our steamer machine instead of the traditional basket and wok steamers, I don't think I read the recipe correctly and I totally overcooked the chicken!! EPIC fail!!
Not Jamie's fault, I will try again with the other steamer option and if I read the recipe right then the buns will probably be much nicer and fluffy… these were horribly doughy! I know I had messed something up when the dough just wouldn't come together!!
Oh well next time!!
January 3rd 2013
Back again to cook from Jamie's 15 Minute Meals – such a top book and so simple and FAST!!
Recipe 4 – Fish Baps and Mushy Peas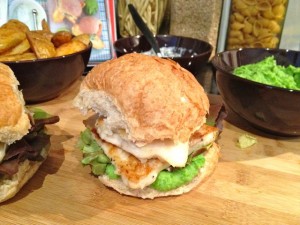 Super fresh, fast and wonderful! LOVED the mushy peas and with the leftovers I have a cunning plan for pea gnocchi!! The tartare sauce was quick and amazing with happy fish!! Brilliant recipes!
*****************************************************
Published 14th November 2012
I have to admit I had my doubts on this one – I wasn't sure he could pull it off! 3 minute abs!! But 15 minute meals is sensational! Ok there are a few packets for time saving but you can really produce a fantastic dinner in a very short time and it's healthy too!!
Some of the best recipes, packed with fresh herbs and great flavours without spending a fortune!
Recipe 3 – Gorgeous Greek Chicken with Herby cous cous and tzatziki

Ok, learnt from Recipe 1 – battered that chicken right down and one breast between two was plenty! Cous cous is so simple and with all the lovely herbs including wonderful fresh oregano from the garden we felt vert gourmet!!
SO quick, probably still took me 30 mins but I wasn't in a hurry! Just brilliant!
Recipe 2 – Modern Greek Salad with spinach, chickpea and feta parcels

WOW!! So simple, healthy, flavoursome and just down right wonderful!! Friend over for dinner was very impressed and so was I! No being stuck in the kitchen for an hour just a few quick preparations and done!!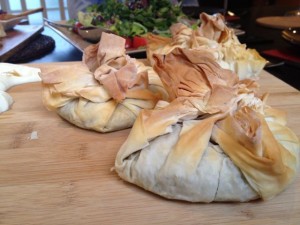 Recipe 1 – Rosemary Chicken with grilled polenta and porcini mushroom sauce

AMAZING!! Totally simple and pre-cooked polenta slabs are a revelation! I hate cooking polenta but this was straight out of the packet and sliced onto the griddle! No mess! My chicken probably took 30 mins to cook but that was my own fault for not battering down my massive Aussie Fresh Chicken breasts!! The sauce was a quick whiz in the blender and plenty of fresh rosemary and basil create the most wonderful flavours!
Happy days!!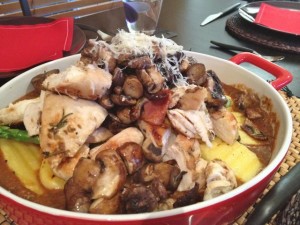 The 2012 Cookbook Challenge – at least one recipe from one book, every week, for the whole year! Or 52 books at the end of the year!!
Click here to see the adventures so far!
2012 Cookbook Challenge :- Recipe counter: 169