Neil Perry, the ponytailed kitchen genius, owning some of the finest restaurants across Australia and a leader in modern Australian Asian cuisine – over the years I have a great fondness for Chef Perry and this new book promised great food made simple. And it is! I have never selected so many recipes I wanted to cook up and food that you can easily rustle up after a hard days work.
Recipe 7 – Chicken, Fennel and Celeriac
Great flavours, love the fennel and celeriac and the red wine vinegar. Ended up roasting all together and the chicken was fantastic with the roasted red onion. Yum!!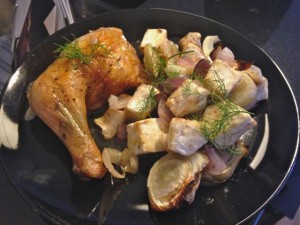 Recipe 6 – Steamed Lemon Chicken
So incredibly yum! Again simple marinade after a hard days work and then chuck the steamer on. Lots of yummy noises all round! We love this book!!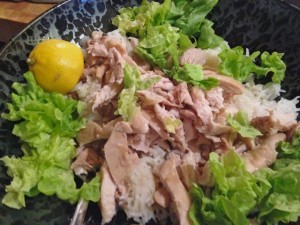 Recipe 5 – Chicken & Noodle Salad with Spicy Sesame Dressing
Oh my! So good! The most amazing dressing. Super quick on a Monday night and makes the house smell amazing. No leftovers!!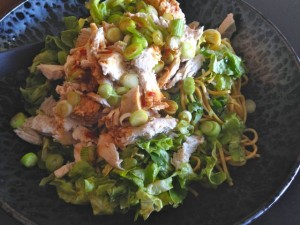 Recipe 3 & 4 – Sweet and Sour Pork with fragrant fried rice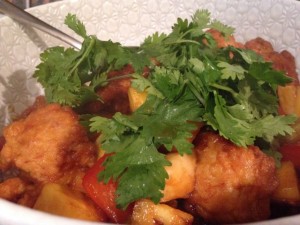 Fantastic! Not a fan of frying at home but this pretty quick and a nice simple batter. The sauce was sensational! Not a drop of MSG in sight but this was thick, tangy and sweet. The fried rice was great, I probably needed to cook this for longer to dry out but delish. I did use brown rice and popped in a cheeky egg too.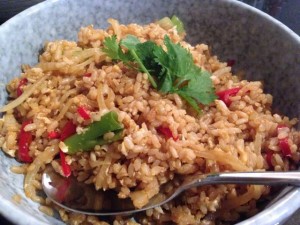 Recipe 2 – Orrechiette with mushrooms, spinach and pecorino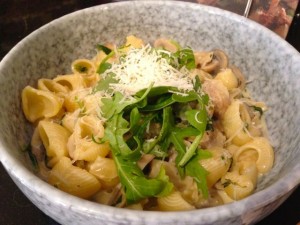 Again a little tinkering with ingredients, apologies Neil but using what we already have around for a more frugal cook up!! So pipe rigate pasta with a beautiful mushroom sauce. Hubby went back for thirds!! Topped with a bit of rocket and grand padano this was a super fast Sunday night dish. One to remember next time we need something fast and fulfilling.
Recipe 1 – Roast Beef Gorgonzola with horseradish potato salad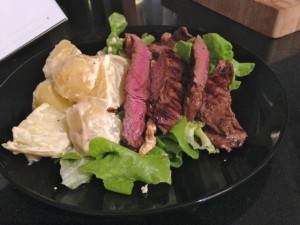 I might have to say this was 'inspired' despite having the ingredients on my list I didn't manage to pick several up…. One of those days!! But success, it was fabulous!! No hazelnuts, so walnuts will do. No Gorgonzola but we already had leftover Stilton in the fridge. Missing red onion and parsley but the potatoes in wasabi mayo were sensational. In the last few years of the cookbook challenges I have learnt heaps about flavour and flexibility – you can tweak most recipes but NOT baking!!! Gorgeous dish, light and delish – just as Neil promised.