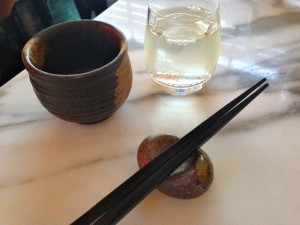 Monday night before Christmas and it's sake degustation night! An absolute bargain and a foodies dream come true, so many courses and all matching with an amazing sake! A little edamame and sake to start with and then we are off!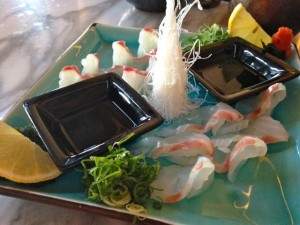 Course one, wafer thin, super fresh kingfish sashimi. So very pretty and with a special little glass of sake to match perfectly.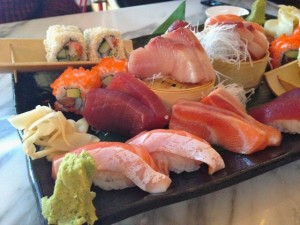 Course two – the most amazing sushi and sushimi platter! I'm full now!! So very good, I could have just gone this platter and a cold beer but no way! We are on to the next dish and the next sake!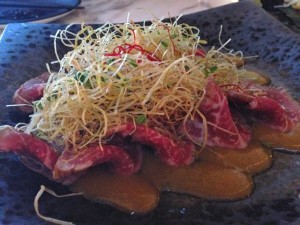 What do the Japanese call carpaccio? Tataki? Anyways this picture says it all! Beautiful quality meat with deep fried onions (I think!) obviously I wasn't paying attention when this one was explained! Must have been distracted by another sake!!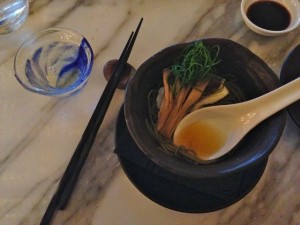 A gorgeous simple green soba noodle soup with the most amazing dashi broth and another sake! This is such a comforting dish, absolutely loved it!!
And then there is the meat platter! Grilled pork and chicken, so good!! All that succulent, charred loveliness! Heaven!!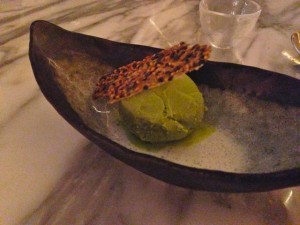 And the finale! Green tea ice cream and sesame wafer. Oh heavenly green tea!! And a little more sake!!
I am now a total sake convert and addicted to that soba noodle broth! WIll be back asap!!
As always fabulous service, super friendly and always a lovely view!
***********************************************************************
Last published 2nd May 2012
We had the pleasure of meeting Kengo and his team at Akachochin during a recent progressive dinner around the amazing new Foodie haven of South Wharf and I couldn't wait to get back and try some more.
The menu is big and packed full of the most beautiful food! There is a bounty of sushi, sushimi, appetizers, salads, yakimono and agemono – we need a little time to work through this one and make our choices!
The restaurant is gorgeous and the staff just huggable they are so nice! Our waitress is so helpful and emphatic about the menu and her recommendations – it was a refreshing change to really believe that the staff here are trying and tasting the food so that they can talk to customers about it (I don't believe it is as well done in some places!!).
Whilst we are waiting there is a comforting pot of green tea with roasted rice ordered and a small appetiser of salmon with perfect delicate flavours is presented.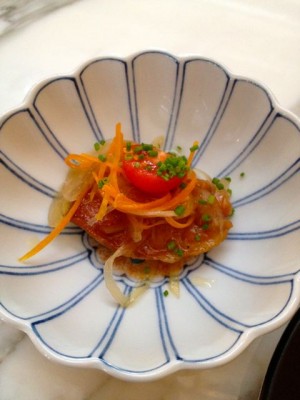 Just fabulous, there is no arguments that the food at Akachochin is incredibly fresh but it is also made with incredible care and passion – Kengo and his team quietly work behind the sushi bar and there is a calm and tranquilness to them as they work away!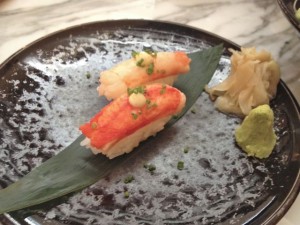 The Kani – Crab Sushi Nigiri is perfect, I admit my chopsticks fail me for a moment and I am embarrassed to make sure a mess of this beautiful dish but it still tastes wonderful!!
The Green Tea Soba Noodle Salad with green tea noodles corn, daikon, cucumber and carrot salad and chilled dashi soup is thoroughly gorgeous and the many layers and textures come together to make a really tasty dish!!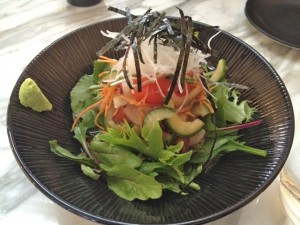 BUT the 'Grilled Eggplant, Oyster & Cheese' is exceptional! Two oysters on deep fried eggplant with grilled cheese and den-miso is just mind blowing! Eggplant will never be the same again! There is so much flavour in this one dish and I think it is one of my favourite dishes of all time!!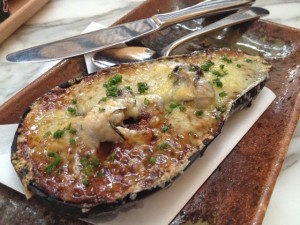 The menu is a great mix of traditional and new style Japanese and the 'Ebi & Pumpkin Harumaki'
spring roll filled with prawn, blue cheese and pumpkin is quite a different combo but it totally works! Soooooooooo good!!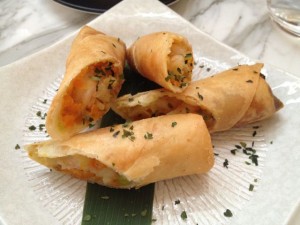 Our final dish is a wonderful finale 'Butterfish Nitsuke' with Kinpira Gobo, a simmered butterfish in ginger, soy sauce with pan-fried burdock! The fish is so tender and packed with flavour and the combined sauce perfection! The burdock – well I don't think I have ever seen or had Burdock since the days of childhood dandelion and burdock drink!! It was really nice!!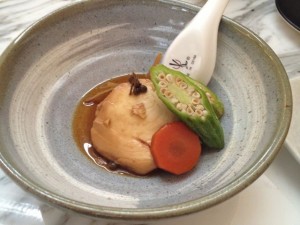 There isn't much you can fault with this wonderful little piece of Japan on the Yarra, the staff are gorgeous, the food is gorgeous…. get yourself down there before everyone finds out!!