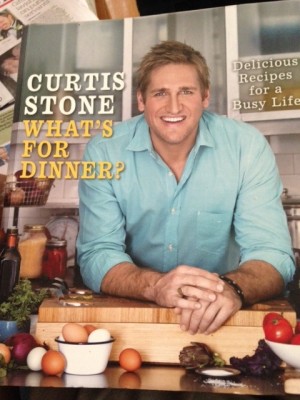 Big fan of Curtis since the Surfing the Menu days and now with What's for Dinner – delicious recipes for a busy life – Curtis is giving us all fantastic recipes we can whip up after a busy day at work! Simple, tasty and they won't break the bank! Why wouldn't you!?!
Recipe 9 – White Sangria

Love a recipe book with a few sneaky cocktails! This was summer time in a jug! Including the gorgeous St Germain elderflower liquer and lots of lovely fruit – fab!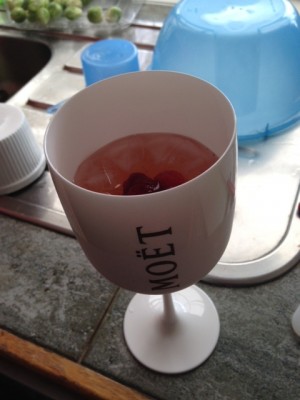 Recipe 7 & 8 – Moroccan Braised Lamb Shoulder with Celeriac Puree

Popped it into the slow cooker and wammo!! 4 hours later super succulent and yum! Loved it which was good as the awful old celeriac I bought was all horrible and woody – epic fail but not because of the recipe!!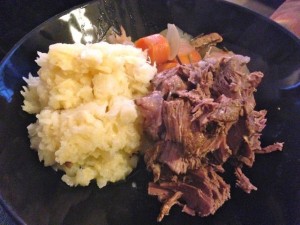 Recipe 6 – Olive Oil Cake with Strawberry and Rhubarb Compote

Made this one a while ago for a gluten free friend and just substituted the flour for almond meal – very brave of me I thought!! It took twice as long to cook but it was soooooo good! With the compote and spot of whipped cream – it was heaven…. it was inhaled within 10 minutes with no leftovers in sight!! No pic of this one, they ate it all too fast!! 🙁
Recipe 4 & 5 – Korean Steak Tacos with Guacamole for Lindsay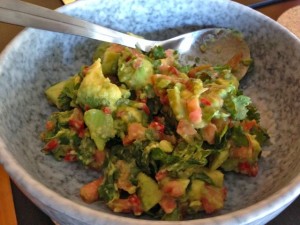 I love a great Guac and this was one of them! I did add some extra tomato but the Curtis recipe (which I love is for his gorgeous wife Lindsay) was one of the best, you'll have to buy the book to see the secret to this genius!!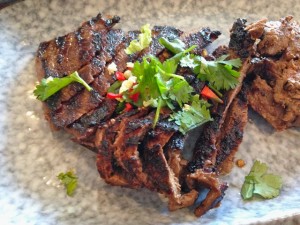 And with the wonderful guacamole is the Korean Steak tacos – simple bloody wonderful!! Amazing marinade and then simple cook on the steak and a bowl full of crispy carrot, cucumber and cabbage and you have dinner is just a few minutes – Fabulous!!
Recipe 3 – Orecchiette with Brown Butter, Broccoli, Pine Nuts and Basil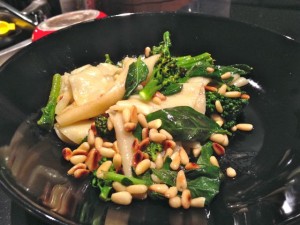 SO slight variation on the recipe, we went broccolini and when asking hubby to pop some pasta on I wasn't expecting him to go for the cannelloni tubes!! They actually split open and it worked really well so maybe hubby just invented a new dish – deconstructed broccolini and pine nut lasagne!!
Regardless if me messing around with the ingredients the base was still all Curtis and it was really yummy!!
Recipe 1 & 2 – Pesto Glazed Chicken Breasts with Spaghetti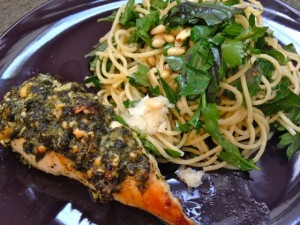 Fabulous, fresh and delish! The pesto was a lovely simple, fragrant recipe with heaps of lovely fresh basil. I stupidly put rock salt in which didn't break down so it meant there was a big crunch of salt every so often but still great! Teamed with a roasted chicken breast and spaghetti pimped with parsley, basil and parmesan.