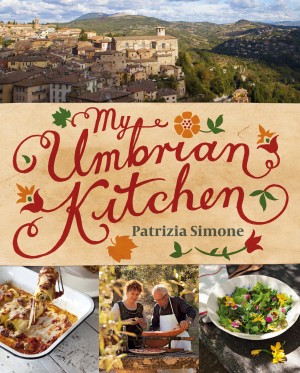 I have never been into baking too much, its a whole heap of delicious treats to have around the house and by all accounts a tricky little minx! One missed gram and the whole thing collapses into an embarrassing mess!! BUT this is the easiest and more gorgeous cake to make in the world… well in my little world!!
From King Valley's renowned restaurant in Bright, Simone's, Patrizia Simone has recently launched a stunning cookbook called My Umbrian Kitchen. A veritable feast around the seasons of Umbria, Italy, this is rustic, traditional and authentic Italian!
Spring brings zucchini flower fritters, Easter soup, gnocchi and crostata with dolcetto-poached cherries! Summer is meatballs, lemon chicken, the Passata sauce and Christmas Caponata. Autumn provides comfort with drunken chestnuts, soups, pasta and polenta souffles. And finally Winter, to cheer you up in the cold months parmigiana, amaretti, terrine and porchetta. It is a stunning trip around a year in Simone's kitchen with heart warming recollections and stories of past and present.
Patrizia and Brown Brother's have teamed up in June to offer the Brown Brothers Epicurean Club several recipes from this amazing book as well as the chance to win two prize packages of a signed copy of My Umbrian Kitchen and a ticket for two to attend Patrizia's cooking school later in the year. As part of the promotion they are sharing two recipes to enjoy with especially matched wines.
Pumpkin ravioli with brown butter, walnuts and apple – little pillows of smooth pumpkin with crunchy walnuts and fresh apple. Described as one of the first dishes cooked at Simone's that strayed from the traditional Italian fare as they are popular in the North of Italy. After 20 years this is still a popular dish on the menu and you can see why!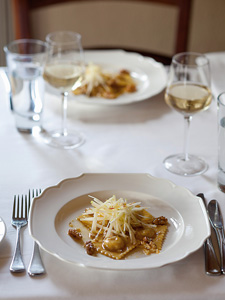 With each recipe Brown Brother's have matched the perfect wine with Cellar Door Release Pinot Gris and a Tasmanian Devil's Corner Pinot Noir for the ravioli. The new Cellar Door Release Pinot Gris is richer than it's counterpart Pinot Grigio and holds well with the intensity of the ravioli and boasts crisp apple and pear flavours to match with finely sliced apple in the dish. The Pinot Noir was a surprise to me, I am still trapped in the dilusion that a dish is usually only matched with a red or a white! Not so! The Pinot Noir has both the spice and a sweetness that won't overpower the ravioli, with bright berry flavours to compliment the pumpkin. (wine notes were kindly provided by Andrew Harris, Brown Brothers Wine Ambassador).
The second recipe is simply described as 'Umbrian Olive Oil Cake' which comes with a decadent wild fennel custard. With just nine ingredients it is a simple batter which I put through the mixer and it came out the most pretty yellow and incredibly shiny and fluffy! Those of you who know a good batter when you see one will understand these ramblings!! Those of you who don't… you haven't baked enough!!
So the mixer does all the work – love my new K Mart Mixer, I definitely don't bake enough to warrant a Kitchen Aid so this is a welcome $70 splash and it's red!! 🙂 Pour in the cake tin and the oven does the rest! Scroll down for the recipe!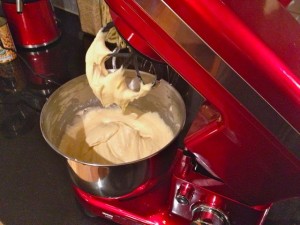 The result is a perfectly thin crust encasing a moist, light, fragrant cake! There were big smiles all around from hubby when he sneaked a slice whilst it was still warm. I am sure with the custard it would be near criminally good!!
BUT there is more! Again Brown Brother's have matched a perfect wine! With three to choose from there is something for everyone! Good old OMF – Orange Muscat & Flora is an obvious companion for any dessert and the citrus hints in the cake and the wine are a winning combination. The Brown Brothers Moscato is a brilliant wine! I often find people turn their nose up a fruitier style wines but I am a firm believer that there is a time and a place for every style of wine! Whether you are fighting the cold weather with a big glass of red, celebrating the end of a week with a glass of bubbles or enjoying a sunny afternoon with a light and fruity wine – don't pigeon hole yourself! Life is far too short!
So I am all for enjoying a Moscato with a slice of this cake! And if there is a still a slice left for the next day you can also enjoy Tamar Ridge Botrytis Riesling from the wonderful cool climates of Tasmania.
Interesting fact 1 – Brown Brothers own several vineyards across Tasmania and source some of the best Sparkling and Pinot Noir in the country!
Interesting fact 2 – Botrytis Riesling is the result for when the riesling grape being infected with the botrytis infection which sucks all the water out and causes the grape to go mouldy and rot BUT actually produces a naturally sweeter version of the varietal as the sugars become more concentrated. A perfect example of nature providing an opportunity from something that might have been a disaster and Brown Brothers taking a chance to try something new and different!
This Tassie Botrytis Riesling is rich and with a great balancing acidity for this cake, especially with the decadent custard!
So there we go! Stunning food with stunning wine! Just add some good friends and a lazy evening and you are guaranteed a great night.
You can find both recipes at Brown Brothers website on their recipes page click here
See you in Spring for Brown Brothers Dolcetto-poached cherries!
Recipes from the book My Umbrian Kitchen by Patrizia Simone & photography by Simon Griffiths, published by Lantern rrp $59.00.
Wine information and recipe card provided by Brown Brothers.