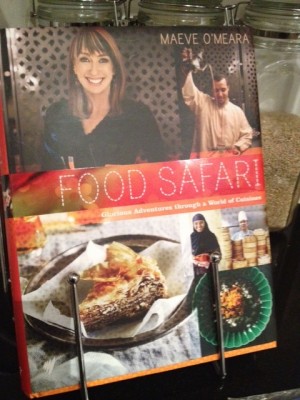 This weeks book is Food Safari with Maeve O'Meara and special friends – this is my absolute go to book for the best Chicken curry ever and more! The first outing for this book is for an curry family feast and then the rest of the week was curry heaven!! I had previously cooked a fair few times from this book and other favourites included the Tabbouleh, Mauritius Prawn Rougaille, Moroccan Mechoui Lamb and then those that I didn't do so well with – Beef Rendang, Nasi Lemak
Recipe 7 – Thai Duck Curry
WOWSERS!! This is the perfect example of how a good pantry can produce amazing food! Just a few spices, coconut milk and some beautiful roasted duck and Taaarrrr Daaarrr amazing dinner in under 1 hour! Quotes from hubby tonight;
"Thats $50 worth of takeaway right there"
"You could sell this in a restaurant and no one would know!!"
"hhhmmmmmmmmm this is great"
"Is there any more"!!!
I think it was a success!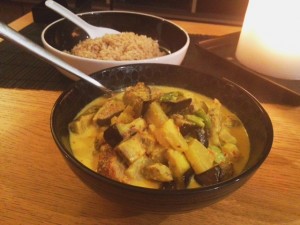 Recipe 6 – Sri Lankan Prawn Curry
From my Fave Peter Kuruvita and this is a cracker!! The smells were just amazing!!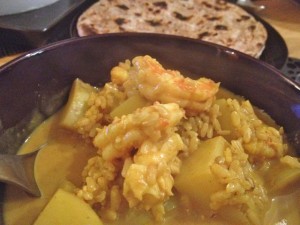 Chucked in some potatoes and rice to finish it off and this was goooooddddd!!!!
Recipe 5 – Kashmiri Rogan Josh Pork – From Kumar Mahadevan – a boneless shoulder and using the same ingredients we chucked it in the slow cooker – 5 hours later you have melt in the mouth! Sooooooooo good my sister in law asked for the recipe!!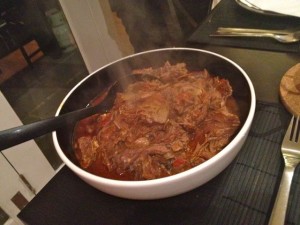 Recipe 4 – Sri Lankan Chicken Curry – From Charmaine Soloman – the best! Soooo flavoursome, slow cooked down chicken thing and about 20 herbs and spices! If you want this you will need this!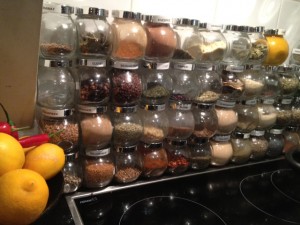 I love my spice jar collection… though sometimes they all tumble down and make a right racket!!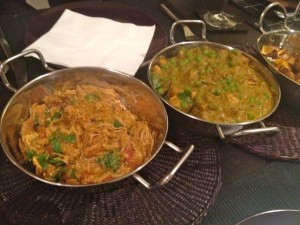 Recipe 3 – Palak Paneer – From Daisy Rojan authentically green once put through the liquidiser but did under deliver on flavour… seemed a bit watery compared to the other curries.
Recipe 2 – Carrot and Orange Salad – the orange blossom water gave it a really perfumed flavour which I thought would go well with the curry flavours but I think it would have been better with just the orange juice and fresh grated carrot. I also put in some coriander and scorched almonds too!
Recipe 1 – Gujarati Potatoes from Daisy Rojan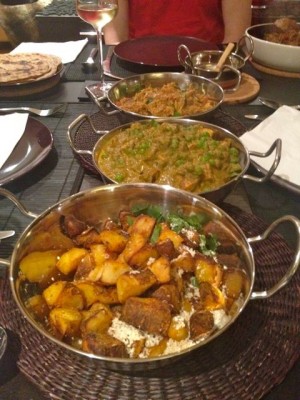 Patatoes – yum!! Heaps of flavour and a real crowd pleaser!!
The 2012 Cookbook Challenge – at least one recipe from one book, every week, for the whole year! Or 52 books at the end of the year!!
Click here to see the adventures so far!
2012 Cookbook Challenge :- Recipe counter: 140