A legendary spot on Park Street, a once hidden door has been opened up and you now can spot Tempura Hajime as you pass by. Enter into a mysterious reception area and if you are one of the lucky 12 to be seated that night you will be escorted into the dining area. A horse shoe bench around the kitchen to allow for a full view of the chef preparing your degustation!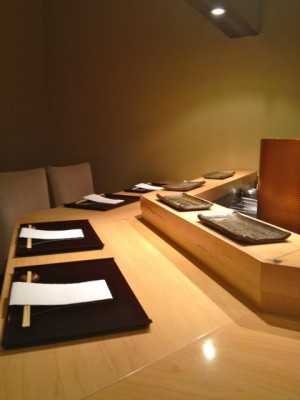 There are two set menus available – Tempura or Tempura and Sushi at a set price, select some wine and sit back and watch the fun begin!
We go with the tempura set and first up we have 'Kobachi – hors d'oeuvre'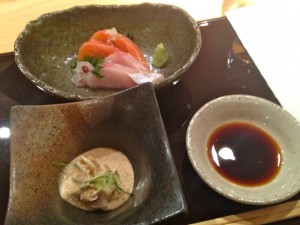 Beautiful and fresh and a lovely way to start as our master of the tempura comes through the red curtain and starts to prep our feast!
Tempura – Chefs selection of 10 pieces is an adventure in the art of super crisp, light and fried without creating a horrible smell in the room.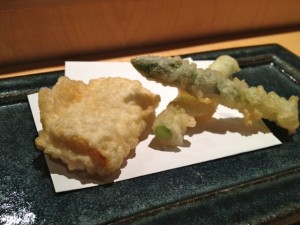 I cannot work out how he managed to do the sweetcorn, it seemed to be regimental and in a square – very impressive and I love sweetcorn and asparagus so we are off to a good start!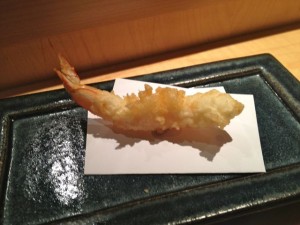 Then prawn – very nice!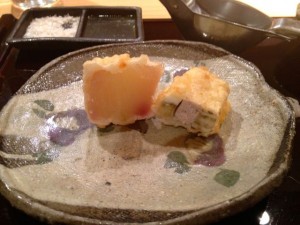 The sweet potato was delicious!
Cucumber and tuna very nice and again impressive to tempura!
Yum!
Some nice fish! All in all they were very nice.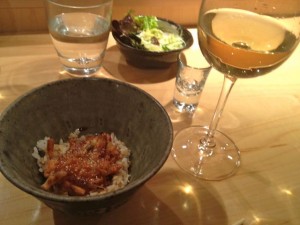 Kakiage Don – mixed vegetable and seafood tempura on steamed rice with teriyaki sauce was very nice but it felt like we were having a lot of food by the time this more substantial serve arrived!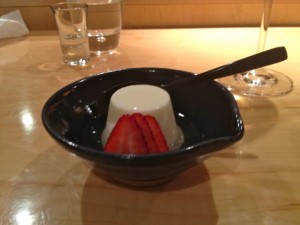 And then Dessert! Very nice but pretty full by then we said our goodbyes and were glad of the walk home to burn off some of those tempura treats!