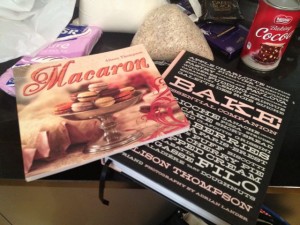 This weeks books are both from Alison Thompson – Macaron and Bake. The dreaded macaron – how hard can they be?! And this book is packed with a million different flavour combos! And Bake full of sweet treats and comforting puds! Happy days!
Recipe 4 – Orange and Almond Cake
Revisiting this book for another winner! We not only made the palmiers again but this fantastic gluten free option with chunky almond meal and blood oranges – super moist and very popular!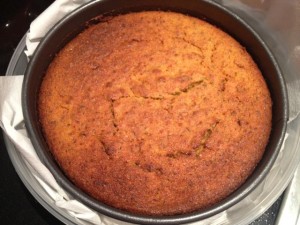 Recipe 3 – Impossible Pies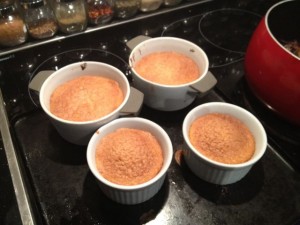 I love a recipe that requires everything to be chucked in the food processor and then poured into it's cooking pot! No fuss and these were super simple! Quick, easy and taste gorgeous! My magical layers didn't appear as well in the pies but who cares! They were yum!!
Recipe 2 – Palmiers
With a samples of @PatersonsPastry lovely freshly made Puff Pastry I am pretty confident on this one, if I can fold it the right way. They look pretty good before we even go in the oven!!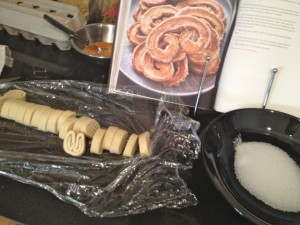 But they look even better afterwards!!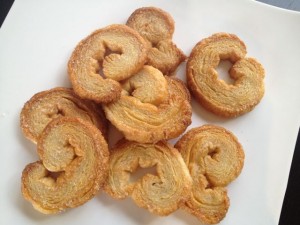 So good even my gluten intolerant friend can't resist
Recipe 1 – Chocolate Macarons
So I have been warned, I have watched the tragedies on Masterchef and I have seen the faces when I say – I'm making macarons this weekend! A lazy Sunday, all the time in the world and a bag full of icing sugar, almond meal and cocoa!
It all went pretty well! I sieved and mixed and managed to fashion a piping bag out of a sandwich bag and we looked nice and glossy!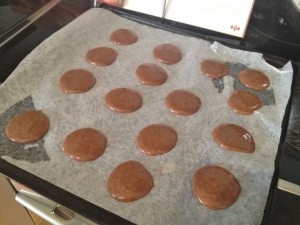 I have the feeling an expert will look at this before shot and tell me straight away where I went wrong! But on we went, I rested them for 2 hours and there was a good 'skin' on the top so in the oven they went…..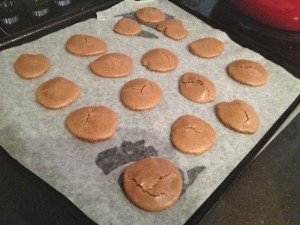 Oh dear, Flat and Cracked!! Not quite what we were looking for!! They tasted ok!! Oh well, try again next time!!
The 2012 Cookbook Challenge – at least one recipe from one book, every week, for the whole year! Or 52 books at the end of the year!!
Click here to see the adventures so far!
2012 Cookbook Challenge :- Recipe counter: 120