Fantastic spot in the hub of Carlisle Street there is The Local Taphouse offering a welcome beer and some pretty good food in a cosy local pub.
Firstly- check out the roof top bar and grab a table to enjoy the fresh air and in winter they will put on heaters and a big fire to give you the best outdoor experience!!
So – beer – very important! There are a selection of 'Current taps' with 20 to choose from including the amusing names of Mr Mistoffelles, Last Drop Dunkelwiezen and Doctors Orders Plasma!!! What the?!??! But if those 20 don't float your boat there are plenty of bottled beers to choose from!
Wine list – Good choice by the glass and across regions without too many NZ Sauv Blancs appearing!!
Food – the menu is a great selection of 'A Little Bit' and 'A Bit More' with sides and desserts it would be easy to stay all day! Choose from Blimpie Sandwich, Crispy skin pork belly, Southern Fried Chicken tenders or go big with '3 beer beef burger', parma, herty lamb pie… all great winter warmers!
We take our glass of wine onto the sunny roof top terrace and it is a little peice of heaven! AND all little peices of heaven should have a damn fine cheese plate!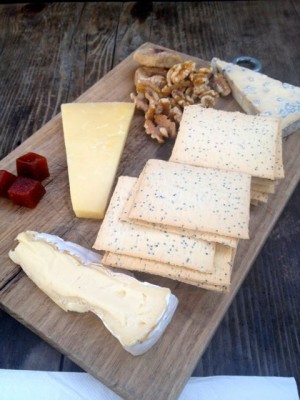 At just $24 this is a fantastic serve with lavosh, walnuts, figs, quince paste cubes and three cheese to indulge on! Enterprise Double Brie, Gippsland BluePyengana Cheddar AMAZING!!! Definitely a great dish to share with a good friend!
Such a great spot, must come back for that burger very soon – it looked BRILLIANT!!