The 2012 Cookbook Challenge – at least one recipe from one book, every week, for the whole year!
Click here to see the adventures so far!
2012 Cookbook Challenge :- Recipe counter: 100
This weeks book! Slow Cooker with Sally Wise
This has to be my favourite Slow Cooker Book ever! Even with no pictures I still love it!! I can guarantee if i have a protein I can undoubtedly go to this book and find a recipe with some simple staple ingredients to cook through the day and make a taste packed meal! YUM!!
Previously I have also cooked the Chicken with apricots, Creamy Pork and red peppers and the Fragrant Pork Curry – they were allllll amazing!!
Recipe 3 – Roast Pork with Prunes and Apricot jus
So there is a bag of prunes lost somewhere in my pantry! I couldn't find them anywhere so we did dried apricots instead and apricot jam instead of nectar! It's good to be flexible!! And it didn't do any harm as the end result was the most gorgeous pork!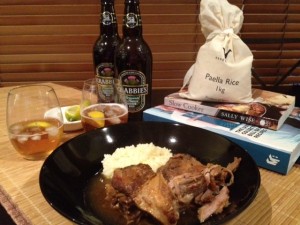 The apricots melted in the 7 hours cooking and the meat was incredibly juicy and with just a slight sweetness – just pulled apart with a fork! AMAZING!!
Recipe 2 – Irish Stew
4 Simple ingredients = one amazing stew! 5 hours of gentle cooking and the lamb speaks for itself! Falling apart and would be a great pie filling!!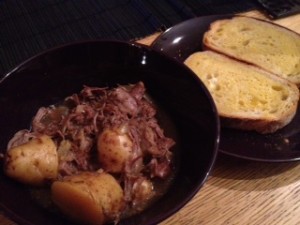 Recipe 1 – Chilli Con Carne
2nd week with the slow cooker books! I love!! So simple to put all the ingredients in their big pot and leave for hours to become …. amazing!! The only problem I have is sitting with the yummy food smells filling the house!! This chilli was no exception! Fab fresh beef mince from the market and it even smells good browning in the pan!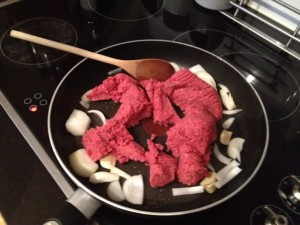 Simply and good ingredients married together for hours of slow cooking and Taarrrrr Daaarrrrr the best chilli ever!!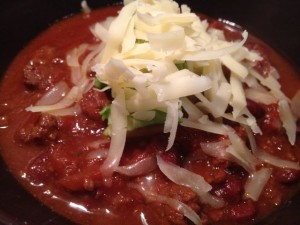 So happy!!!
AND then we used the leftovers in enchiladas!!