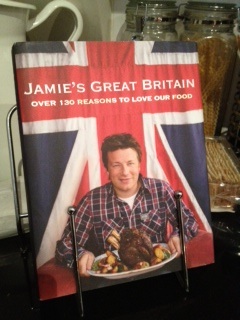 The 2012 Cookbook Challenge – at least one recipe from one book, every week, for the whole year!
Click here to see the adventures so far!
2012 Cookbook Challenge :- Recipe counter: 90
This weeks book! Jamie's Great Britain with Jamie Oliver
Recipe 8 – Glasgow Potato Cakes
Yum!! Bit of an effort for breakie but it you get the mash done the night before then the rest is easy!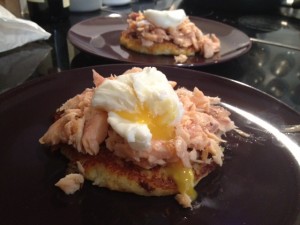 We had ours with some trout and a perfect poached egg YUM YUM!
Recipe 6 & 7 – Empire Roast Chicken with Bombay Roasties
Missed the bit recommending overnight marinading but definitely read the bit to wear gloves and you smother your lovely free range market bird with a rich, yoghurty, spicy jacket! YUMMM!!
Before………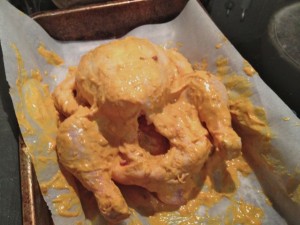 And after!…….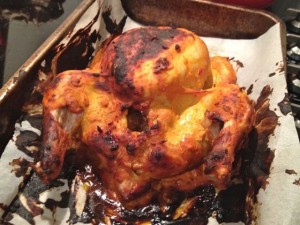 It was amazing! And the bombay roasties were fabulous! Used my Pink Fir potatoes from our GasWorks Market Trip and they were brilliant – definitely go with that recipe again!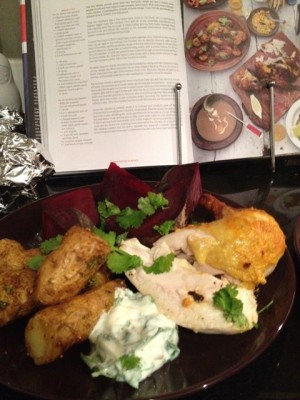 My Indian Gravy didn't go so well but I have played with the recipe from the start! The recipe worked on a suspended chicken above the tray just on the shelf…. but I have just had the oven cleaned! No chance!! So no great cooking juices to get the gravy going!! But a little improv. and we have coriander yoghurt! Perfect!!
Recipe 5 – Happy Fish Pie
End of day Sunday and the markets are selling off trays of monkfish and trevally for bargain prices! Perfect for a wintery fish pie!
Stupidly I forgot to take a picture of this beast but it was amazing, I tweaked the recipe to bring the calories down a touch! Less cream and bit of sweet potato mash but the flavours were fabulous! Yum!!
Recipe 4 – Tomato Soup
Super fresh, made with bargain end of the day $1 a bag tomatoes (Jamie suggests over ripe are the best) as you liquidise the raw ingredients and then cook down. Just basic, natural flavours, nothing complicated! I cooked it for a fair bit longer than suggested and with a piece of fresh sourdough this felt like the best meal in the world!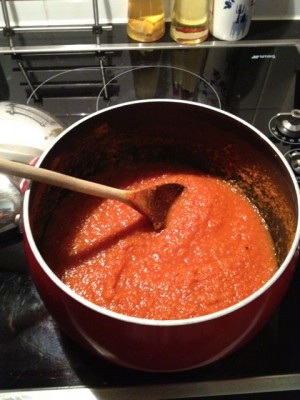 Recipe 3 – Walnut and banana loaf
WOW!! Totally easy and totally yum!! 5 egg whites seemed a lot but it really works!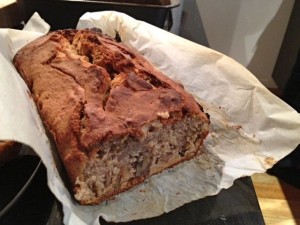 Leftover egg yolks will go into a zabaglione tonight!!
Recipe 2 – Yemeni Pancakes
A 200 year old recipe from the Yemeni community of Cardiff! Just resting before we cook them up!!! And the result…..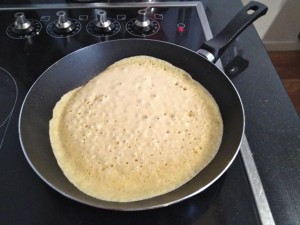 The best pancakes come crumpets ever!! They are fantastic, light, fluffy, full of tiny little holes!! We had ours with some stewed apple and blueberries – AMAZING!!!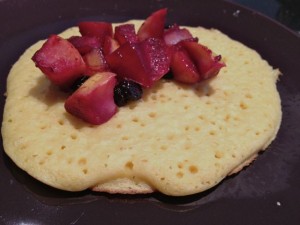 Recipe 1 – 12 Hour Rabbit Ragu
Whole rabbit in the oven with a whole lot of gorgeous ingredients and 12 hours later……..
The house smelt amazing and as we had the oven on for most of the day we were toasty warm and I thought I would pop in some muffins and a banana loaf….. messed around with the temperature a bit and ….
When I took the rabbit our he has simmered dry and burnt! Bugger! I know it would have been amazing as the meat was falling off the bones but not able to enjoy today!!