Combi Coffee has always been one of my favourite spots in Albert Park to grab a good coffee, usually on the go I stop at the window and chuckle at the astro turf walls and stools and gaze longingly at the muffins before rushing on to my destination.
But today we have been walking for a while and when we come across the bright cushion covered chairs basking in the sun it is a perfect moment to appreciate the Autumn weather and take a moment!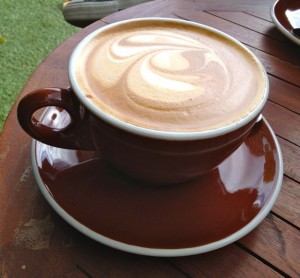 One large cup of fantastic coffee later we are struggling to leave as the dark clouds start to forebodingly appear! Oh well off we go and see you very soon for a seat next to the open fire!