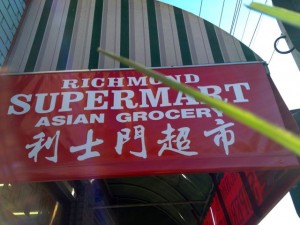 As part of Mighty May – No Supermarkets Challenge we are hitting the markets!
With a plethora of amazing areas to go on a foodie adventure, I can never go past Victoria Street Richmond!
Famous for the gauntlet of Vietnamese restaurants running the length of the road (I can't imagine how many there are!!) And dotted inbetween the noodles, pho and 'banh mi thit' are the most wonderful grocers and supermarkets. Packed full of spices, veggies, herbs, sauces and all things you might need to rustle up an Asian feast! Many a time I have ventured down the street with a list of ingredients unknown to me but I always find them here aswell as a million other things!
There are fishmongers full of wonderful whole fish, abalone, prawns, scallops and calamari, the butchers have very reasonable priced pork belly, oyster blade, ribs and much more! There are shops full of everything you need for the kitchen including equipment wholesalers open to the public!
But the grocers and supermarkets are where I get the most excited! The grocers are packed full of amazing colour, piles of super fresh coriander, gnarly chunks of ginger and galangal, bitter melon, hairy melon and chokoes. Amazing seasonal produce that you just don't see in your local chain! There are star fruits, persimmons, mangos, coconuts, there are bunches of water spinach, bok choy and pandan leaves! And best of all it all seems very reasonable!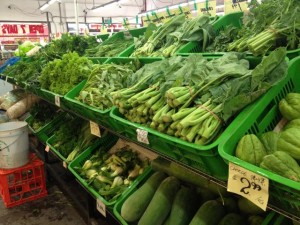 The super markets are amazing, shelves upon shelves of products that I am learning to use, some were easy – I am a complete Kewpie addict! Dried mushrooms, chillie and noodles are a staple! I love wasabi peas and the little Panda biscuits. Buying Steamed Pork Buns to cook at home is always a treat and packets of wonton wrappers have been responsible for many a dumpling or ravioli substitute! The number of soy sauces and any sauces is amazing! It really is somewhere you want to wander around and explore!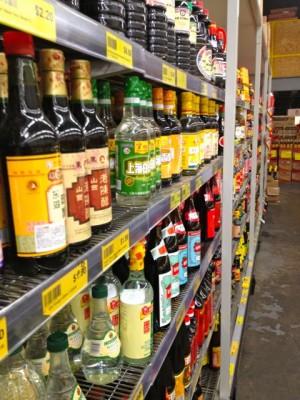 But today I need ingredients for a Poh's Kitchen recipe – Beef Floss! So I snap up 500gs of Oyster Blade (Just $5!), a pot of tamarind concentrate, a bag of glutinous rice and a bag of black sticky rice for a later date! I also grab fresh pandan leaves, coriander, oregano and some 'Asian Delight' for the 3pm slump later that day!!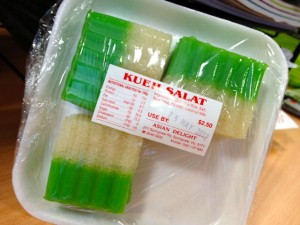 I am not tempted with the Cooked Century eggs today – still not sure what I do with those and I hear they are an 'acquired' taste but my friend does pick up some tamraind lollies to have later on!!
It is an amazing place to wonder around and take some time to explore, there are some colourful characters and there are some amazing treats! We certainly love I Love Pho, Thy Thy, Trelek and Vinky to name but a few but the good thing is you can always come down another day and explore some more!!