I don't think I have ever been when Botherambo is quiet – sign of a good place! They are always super lovely staff and though you can't book they will send you off for a drink and call you or we just took a pew at the bar which worked really well and every time I smiled sweetly someone bought me another wine – even better!!!
Too much good stuff on the menu at Botherambo with shared dishes providing more than enough tantalising treats with Vietnamese rice crackers, Spanner Crab Betel Leaf, Eggplant Jeow Betel Leaf, Char Grilled Chicken Ribs, Salt and pepper Egg tofu, Fried spiced Squid, Cured Hiramasa Kingfish, Crispy pork belly, Yellow Fin Tuna, Crying Tiger Beef and Sautéed Eggplant. But then there are salads and main dishes with chargrilled chicken and seared wagyu beef salad or braised beef cheeks and whole crispy Murray cod. TOO much…. Can't choose!! Especially when it's just two if us, I don't even get to order a feast for the table with everything I want to try 😉
Oh I forgot… there are dumplings too! Choose from Chicken and Prawn or Beef Brisket or Pork and Kimchi…. Hmmm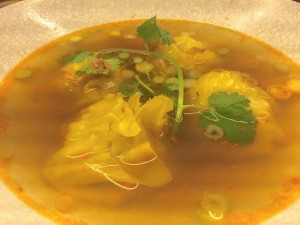 Chicken & Prawn Dumplings with lemongrass master broth, dried scallop, nam prik, coriander and shallot FABULOUS!! Super tender little dumplings in that broth that you just want to slurp away on!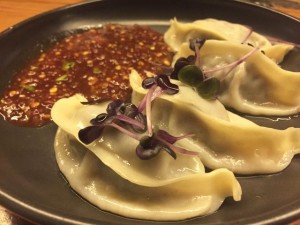 Amazing beef brisket dumplings with lemongrass, ginger, coriander, green chilli and coriander sauce YUM!!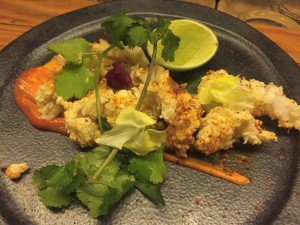 Fried spiced Squid with coriander, Vietnamese mint, chilli, mayo and sriracha – Hallelujah for this squid! Totally tender, lightest crisp coating and then the combination of chilli and mayo and the spicy sriracha is just a combo I definitely dig… infact I want to dig a whole lot more!!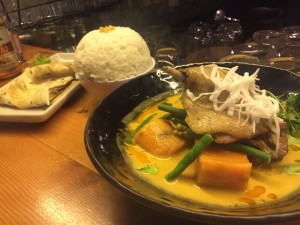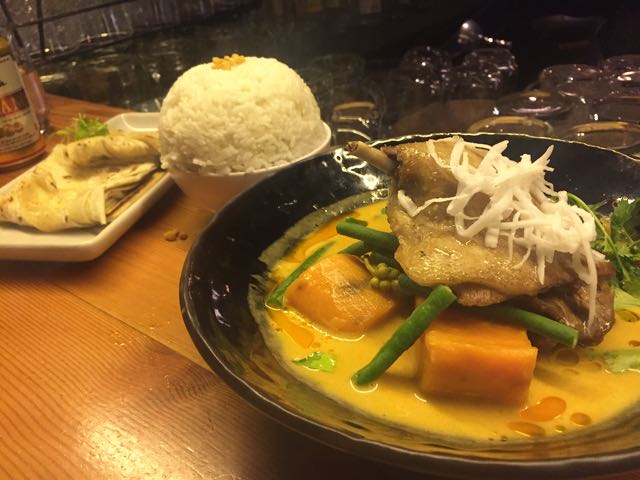 Red Duck curry with snake beans, sweet potato, green peppercorns, chilli and coriander – such a proud duck leg, balanced above the sweet, spicy red curry so as to keep his crispy skin safe. It was a beautiful, warming, rich and wholesome. Definitely made with love! Add a little rice and a little roti and this was a new favourite dish for the list!
I wanted to stay, I wanted to eat much more but there is always next time!