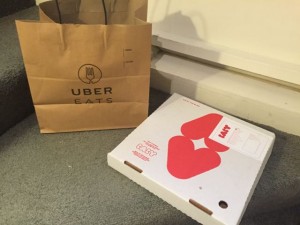 Oh it's all too easy with Uber Eats to avoid cooking after a long day and with so much choice it's even more tempting. There are new places popping up all the time to now get your dinner from and when Baby Pizza in Richmond appeared I was beside myself – polenta fries to my home!!! I'm a huge fan and used to be much nearer but now unless I get in the car and head on over to see them I haven't been able to get my fix for months!!
So all too easily I select the favourites and press the 'Order now' button …….. it's on its way! It takes a while, you can see the car stuck somewhere between us and Baby….. it's take a bit longer….. finally we get a call – Hurrah I am here, not at your door but near! Can you come into the street and take your food from me because that last little bit to find your front door was too much!!
Hubby arrives victorious…. Until we realise there is only one pizza box – No Polpette??!?!?!?!? Disaster! Finally get through to Baby and they have made a slight mistake and sent Polpette and Polenta not Polpette pizza…. Darn it! They can't just resend as you have to re-order with Uber and then after a call from Uber they have credited and added and all sorts but we can't be bothered to re-order so we leave it.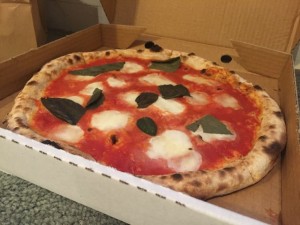 The rest of the order is still here….. and the pizza is stone cold – like Steve Austin would look embarrassed to be near it – it makes him look at least luke warm. Obviously the Uber Eats guys aren't kitted out with the pizza bags to keep them warm and it took a while so this is not great. We could have tried to warm it up in the oven but we were too hungry….. feeling a little bit sad!
The Margherita looked the part with fior di latte, san marzano tomatoes and fresh basil but it wasn't anywhere near as nice when it's fresh and hot. Uber fail.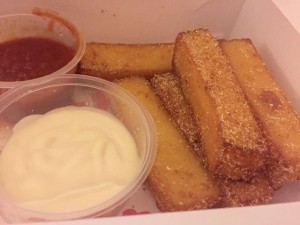 The Polenta Chips – which retain their heat for a long time – where a great choice and that thick, rich aioli still is the best thing ever – Uber WIN!!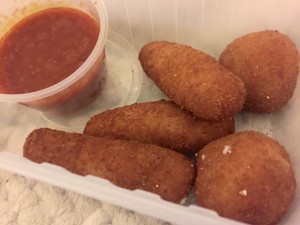 The arancini and croquette selection was greedy on my behalf and weren't that great, they were a bit bland and stodgy.
The meatballs and polenta looked nice enough but it wasn't the dreamy polpette pizza I was going for. Probably best to trek across the river in future and get the real deal, delivery did not do Baby justice.