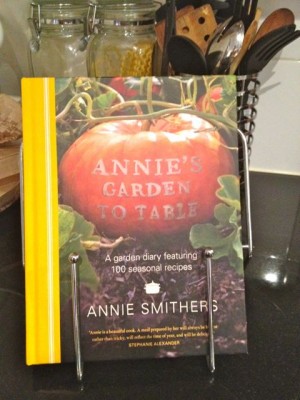 The 2012 Cookbook Challenge – at least one recipe from one book, every week, for the whole year!
Click here to see the adventures so far!
2012 Cookbook Challenge :- Recipe counter: 79
This weeks book! Annie's Garden to Table – Annie Smithers
Such an amazing book and we also got to go and visit Annie and the Garden and had a wonderful lunch, read more here.
Recipe 7 – Braised Lamb Shoulder on white bean and tomato stew
HOLY COW!! or lamb!! This was stunning! Cooked for most of the day and the result was the most moist, succulent, falling apart lamb with a stunning, hearty and warming stew of gorgeous beans…. Amazing!! Brace yourself for a terrible picture!!! It tasted a lot better than it looks and the roasted beetroot was actually really good!!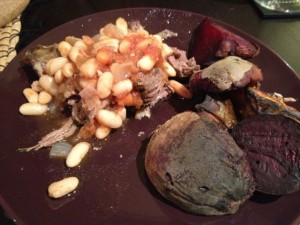 Recipe 6 – Tomato Spaghettini
Super quick and super simple, a good reminder that the best pastas and pizza are the simple ones with just a few key flavours – this is perfect.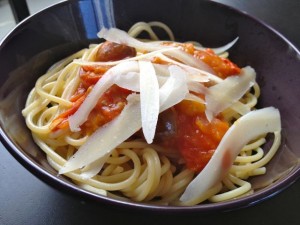 Super delish, I felt naughty spending $5 on fancy pants tomatoes but they were totally worth it Yum-diddly-yum!
Recipe 5 – Staff Dinner Beef Burgers
WOW the best burger recipe ever! The added extras create a secret recipe of the most gorgeous burger ever!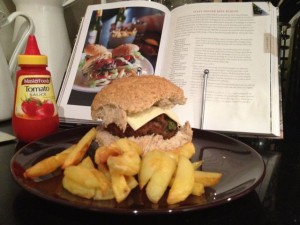 Just amazing, super 'sturdy' after their time in the fridge and they cooked through to be perfectly moist and just tasted sooooooooooooo good!!
Recipe 4 – Fish with Lemon and Capers
Lovely healthy yummy fish, I couldn't get snapper but this still worked beautifully! The caper and parsley dressing was quite light and then the zingy lemon salsa was AMAZING!! I thought the lemon would be too much but it made the fish dance… not literally – that would be weird!!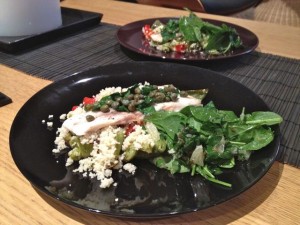 Recipe 3 – Easy Strawberry Tart
Sooooo easy and sooooooooo yum!! Gorgeous gorgeous gorgeous – best family lunch ever! The recipes are so easy I don't have to spend too long in the kitchen and the food is soooo good I look like a rockstar!!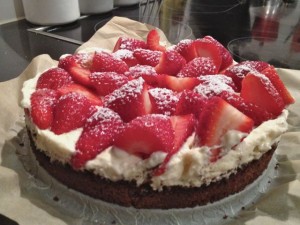 Recipe 2 – Pommes Anna
Perfectly simple and perfectly lovely! Mums new favourite dish, she is off to get a mandolin!! Yum yum yum!!!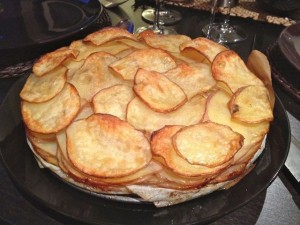 Recipe 1 – Pot Roast Chicken with mushrooms and Thyme
Wow wowow owowowowowo!! The most moist, gorgeous, yummy chicken with a mind blowing mushroom and thyme sauce. Roasted in the pan the mushrooms are then cooked down and create the most gorgeous sauce!!