The 2012 Cookbook Challenge – at least one recipe from one book, every week, for the whole year!
Click here to see the adventures so far!
2012 Cookbook Challenge :- Recipe counter: 72
This weeks book! Winter on the Farm – Matthew Evans
Recipe 1 – Casserole chicken with white wine, mushrooms and sage
Family lunch and the colder weather kicked in for a little while so we are going for something wholesome and comforting from Matthew Evans second book – Winter on the Farm. A thoroughly gorgeous book with the most beautiful imagery.
I was lucky enough to go to the book launch of Winter on the farm – read all about how lovely Matthew Evans is right here!!
So lunch – The market has other ideas when I go hunting for chicken marylands and the thighs don't look much good either so I improvise with chicken sausages which I have often stewed and slow cooked and they seem to do the job! And fortunately they do!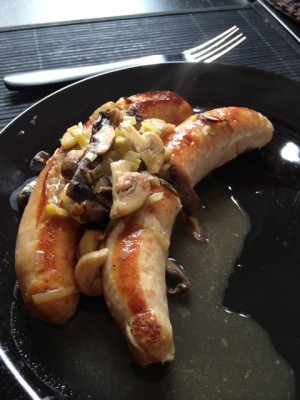 The sauce is just fantastic, the mushrooms, leeks and wine make a formidable combination and I end up throwing a fair bit of stock in to get some more sauce going (Manu is shouting "More Sauce"!!!) and it is fantastic! The sausages have taken on a lot of the flavour and are super moist and it is pretty damn good!!
Recipe 2 – Apple and Sour Cream Slice
Just a little something I rustled up! It actually looked more like a savoury bake! There was a slight mishap with the topping and we ended up with an extra egg which may have made this a little more yellow but it tasted really good and Dad had an extra slice so it must be good??!?!?!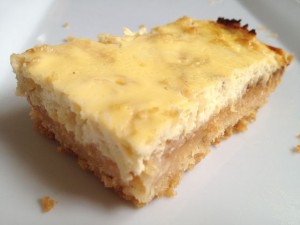 Fabulous, wonderful, delicious!!
In a previous challenge I also cooked the White wine chicken which was just wonderful! The wilted cabbage with garlic, bacon and hot English mustard was also a winner and the caramdelised brussel sprout colcannon. We also had the cheese puffs at the book launch which I am dying to try!!
This book just doesn't stop delivering the best comfort food ever – few more weeks and we will be visiting again I think!