Don't tell everyone but there is a new Foodie Haven down at South Wharf Promenade! After more than 6 years of restoration these heritage cargo sheds along the Yarra have become home to a collection of fabulous restaurants and bars!
Stop 1 – The Boatbuilders Yard
A great spot on the river with friendly staff, great menu, gourmet sausage sizzle and plenty of outdoor space!
Yummy School prawns with a bed of creamy gorgeous aioli – how good do these babies look!?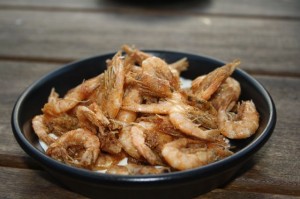 Gabe and the guys are really lovely and we are quick to make sure we head back to experience more… infact we already did – read blog
Stop 2 – The Bridge at South Wharf
I love this space, paper lanterns, old style furniture with modern twists – it feels quite homely for a massive space!!
Steve and Luke are really easy to chat too and for the short time we got to catch up there was a real passion for the Bridge and the hard work that had gone in to turn this space into a fabulous spot on the water!
We get a little sneak peak of the menu with a fabulous little rillette on teeny toast! So good!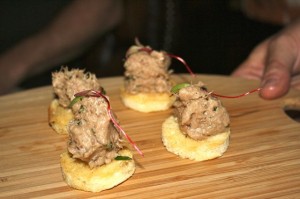 We will be heading back soon!
Stop 3 – Akachochin
This is pretty special, a Japanese izakaya and sake bar led by Kengo Hiromatsu, formerly Head Sushi Chef at Nobu. The space looks great and I am excited! We are all lined up at the sushi bar running the length of the kitchen and there is no where to hide as the chefs prepare fantastic looking sushi and sashimi!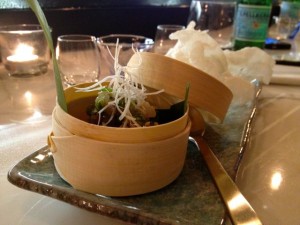 Presentation is exceptional! This delicate crisp rice cracker and tartare is so very fresh and beautiful! We continue with a selection of sake and plum wines and a very impressive stuffed chicken wing!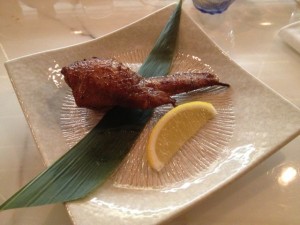 Kengo talks us through each plate and sake and he is obviously incredible passionate and very very talented! I can't believe we are lucky enough to have this beauty on our doorstep!
It didn't take long for us to head back and try some more – read blog
Stop 4 – The Sharing House
From the fabulous Paul Mathis (Taxi, Chocolate Buddha) we have the joint building with Akachochin and with manager Ezra guiding us we are taken from the wonder of Japan to the fun of lego land!! With head chef Mark Briggs, previously of Vue de Monde, the guys have created a fun place to eat exceptional food! The whole bar is covered in lego (built by the staff!) and even the bills are presented in a lego themed vessel!!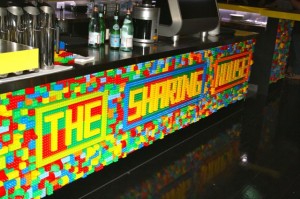 The menu is fun, lots of sharing plates and all the favourite foods but just a little bit different!! Chickpea fries with homemade ketchup and rabbit and cauliflower popcorn! So brilliantly presented!!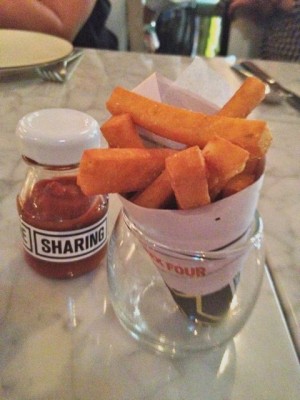 A beautifully fresh gravlax with three types of apple including dehydrated apple cubes and apple vodka – fun and gorgeous!!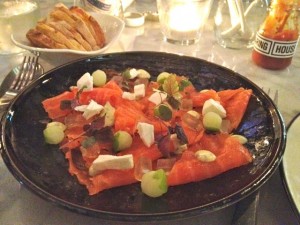 Mussels out of their shell and swimming in a rich delicious foam in a gorgeous square glass – just too pretty!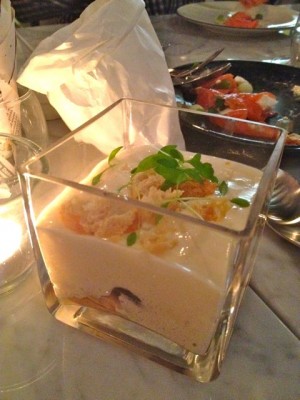 We are so spoilt!! We said we would be back and we did!! Read Blog
Stop 5 – Melbourne Public
Brought to us from The Darcy Group (The Precinct Hotel, Motel) the lovely Tom and Richard welcome us into a great looking pub! Fun, footy and pub fare at the front and some more serious foodie action at the back!
Executive Head Chef Justin Dingle-Garciyya comes out to chat freely with everyone and share his vision for the Melbourne Public and the rest of the Darcy Group. Bringing flavours from 20 years of travelling and working at some of the world's most prestigious restaurants, including a number of Michelin-starred restaurants such as the La Manoir aux Quat' Saisons with Raymond Blanc in the English countryside, Marco Pierre White at Canteen in London and Can Fabres in St Celoni, under the late Santé Satamaria.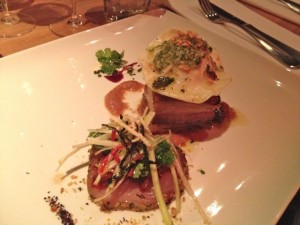 An incredible preview on a plate! Not only a salad of rare seared tuna with char sui oxtail but also a double cooked belly of pork with a shrimp dumpling and hainan style dressing…….. holy Melbourne Public Batman this is one hell of a preview!!
Quite simply amazing!!
Stop 6 – The Bohemian
We have had the most amazing night! We are full to the brim with exceptional food and really lovely people and our final stop is the wonderful looking Bohemian. Dark, cosy and a little eccentric! With huge heavy velvet drapery and old subtitled files projected through a sheet onto the walls this is a sultry little spot and we love it!!
It is really dark so photos don't go with (without killing everyones retinas with flash!) but take my word for it – it is lovely!! We enjoy a little chocolate donut, jammed full of luscious flowing chocolate I do make a bit of a mess of myself! But it is worth it! There is also some fabulous Sangria flowing too and they guys are super lovely. Josep Espuga is adorable and obviously very passionate and excited about the new opportunity that Bohemian has presented. I adore tapas and I think we will be heading back here very soon!!
There are plenty of other stops down at the Wharf and we have visited a few others since;
The Meat Market – read blog