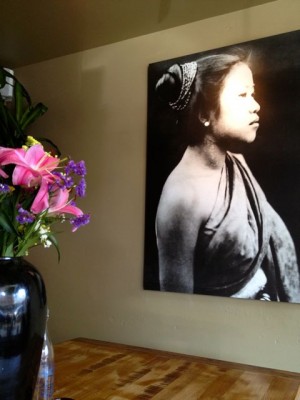 Another little gem on Smith Street – seriously how many more can they fit in!!???
Casual, small, cheap and very cheerful! Yim Yam is all about great Thai food, no fuss just great flavours!
The pad thai is great, full on citrus and great perfectly blended flavours of sweet and sour with fish sauce, sugar, chilli, peanuts and coriander…. oh I could so get in the car right now and go and get some of this… it was soooo good!!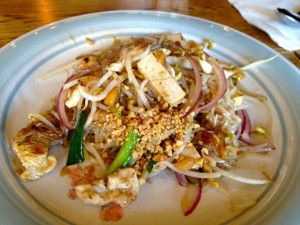 Crying tiger is a generous serve with strips of beef – I would usually have a relatively rare cooked piece that is sliced post cooking but this worked well and the sauce was YUM!!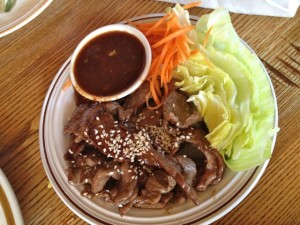 Thai Pancakes vegetarian option are really good, thick, slightly sweet pancakes with fresh salad and tofu – great dish!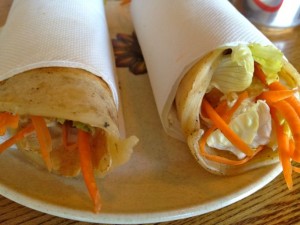 The beef Massaman Curry, the classic dish with tender chunks of beef, tamarind, potatoes and peanuts is a good dish, there is no fussy plating at Yim Yam it is good food served well and it tastes damn fine though sweeter than I have been used to in the past!!!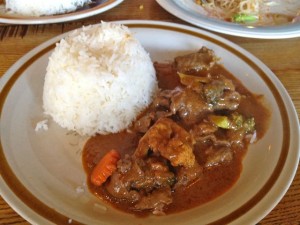 The Crispy pork with broccoli and greens was my absolute fave! Ofcourse anything with the words 'pork belly' in the description will always tempt me in but this was a fabulous dish. Lots of gorgeous crispy pork nuggets caramalised to perfection!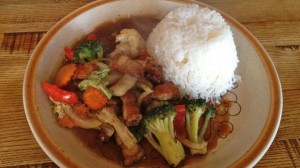 We are stuffed full but there is a sneaky last minute dessert Banana and roti! OMG!! The bananas are perfectly cooked down – probably grilled and encased on a perfectly gorgeous flakey roti – The best banana sandwich in the world!!!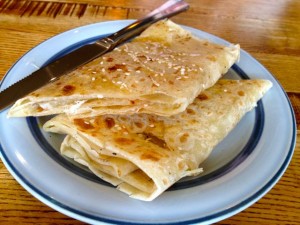 Wonderful, great, super, lovely! Get yourself down there!!