The 2012 Cookbook Challenge – at least one recipe from one book, every week, for the whole year!
Click here to see the adventures so far!
2012 Cookbook Challenge :- Recipe counter: 69
This weeks book! Pete Evans – My Kitchen
Recipe 9 – Noodle salad with herbs and toasted peanuts
Again I need to work on my food styling – or use a bigger bowl! But this was fantastic! Lots of great Asian flavours all coming together to create a wonderful salad!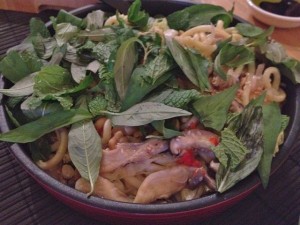 Terrible picture! Great Salad
Recipe 8 – Warm asparagus salad with mozzarella and cherry tomatoes
Few improvisations on this one, but it worked beautifully and I loved the black olives and simple, good flavours.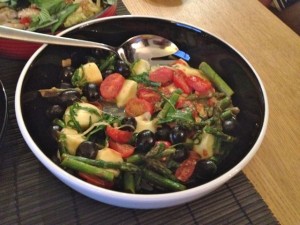 Recipe 7 – Barbecued Sirloin with mint, chilli and rocket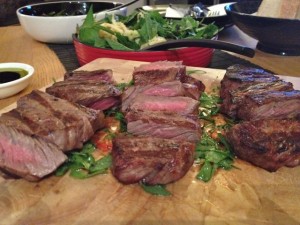 Delish! Charcoal smokiness from the BBQ and then zingy lemon and hot chilli dressing to perfectly compliment and take a regular old steak to a new level!
Recipe 6 – Upside down plum pudding
Super simple batter in the mixer and in the oven within minutes! Slight lack of caramelisation on my plums – probably too light with the sugar but it tasted amazing! Sweet and tart plums with moist sponge pudding – YUM!!! I admit it doesn't look as good as Pete's but honest it tasted great!!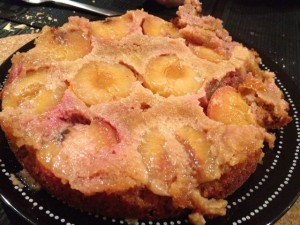 Recipe 5 – Lamb Shank Pie
OMG OMG OMG!!! Slow cooked shanks the night before in luscious red wine and tomato then baked into the most amazing pie ever! My food styling may not do this justice Pete managed to arrange the bones a bit better!!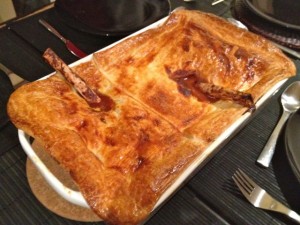 Perfect for a family dinner with creamy mash and green beans with the same garlic and lemon saute as per the broccolini below! You can see Dad picking the carrots out in the background!!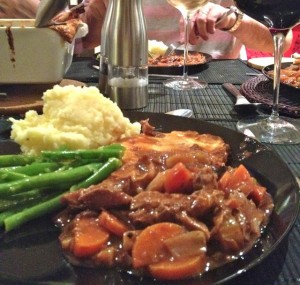 Recipe 4 – Bircher Muesli with LSA mix
Super healthy yummy start to the day! We made a batch of this for the whole week and it was gorgeous! The grated apple gave it a great lift and lots of lovely fresh fruit!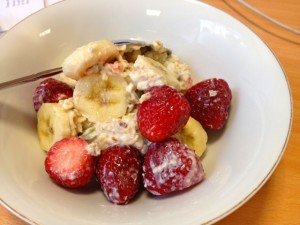 Recipe 3 – Broccolini with lemon and Garlic
THE best broccolini ever! So simple but a couple of simple introductions and this veggie takes on a whole new life! Amazing!!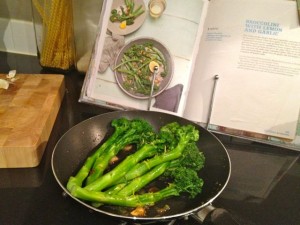 Recipe 2 – Ayu's Balinese Roasted Chicken
The paste fills the kitchen with the most amazing smells as the chilli, garlic, ginger and tumeric merge and once cooled it is slapped all over the chicken and in the fridge overnight to marinade. Roasted in the oven the next night and it is fabulous!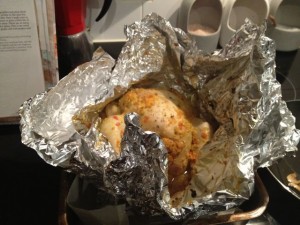 The flavours had infiltrated the meat, especially the legs and the juices are stunning! Some noodles and a slathering of the sauce and it is a hearty, lightly spicy AMAZING dish!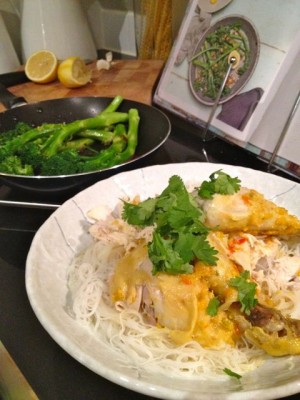 Recipe 1 – Blue Swimmer Crab Linguine
First time crabbing! I love crab but I have never bought and cooked… nevermind cracked my own crab before!! I will admit I bought my beautiful Blue Swimmers but forgot to ask if they were cooked and just to be sure that most thing's fishy go pink when cooked… I googled!!
So no! Blue is uncooked and in the pot they go! I refer to my trusty Rick Stein Seafood Compendium as to how long we cook for and what I do with it after that! Once we have a bowl of luscious crab meat the rest is easy!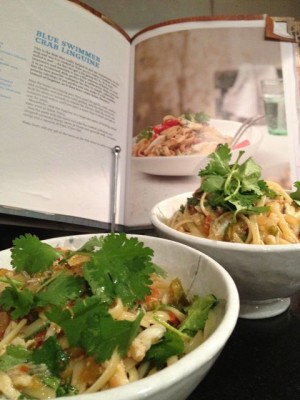 I must have had a sneaky hot chilli jump in as it took me to my chilli limits but it was all my favourite flavours and it was divine!!