The newly renovated Rose has a little sister at the back and she is cute!!
Specialising in shakes, jaffles and coffee it's my kinda place!!
A smart conversion of the back of the building with exposed concrete it is very New York! The menu is fantastic! Jaffles of all types – baked beans, confit pork, The Trucker and for lunch corned beef and cauliflower cheese!! Plus cereals, quinoa, baked green eggs, freshly squeezed juices and shakes.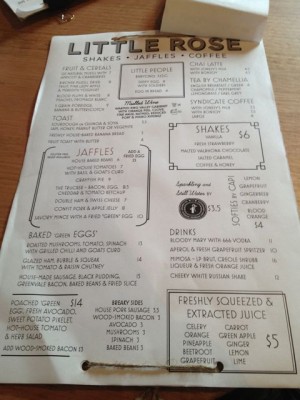 The staff are lovely and friendly and there is a mix of the spandex crew, small families and coffee fiends all enjoying good food, great coffee and child hood memories of jaffles!!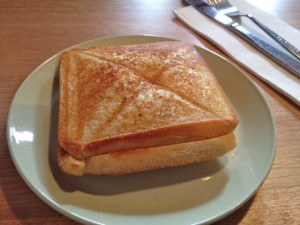 How perfect is that! The crockery is reminiscent of a British childhood with pastels and mis matched cups and saucers and the jaffles are pretty impressive!!
The classic Baked Bean jaffle is everything it should be, rich, smokey beans slow cooked down and then enveloped in a toasty bread jacket YUMMMM!!!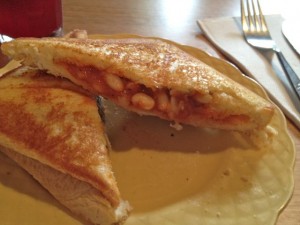 The coffee and honey shake is divine – in it's classic glass and with a stripy paper straw there is a milky foam on the top and underneath is a luscious coffee shake spiked with sweet honey! In comparison the freshly squeezed juice – my choice of beetroot, ginger and apple is fresh, earthy and zingy!!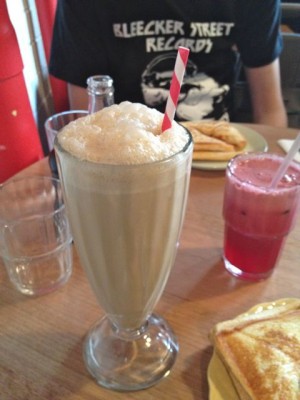 My confit pork and apple jelly jaffle is scrumdidlyumptious!!! Creamy slow cooked pork and sweet apple jelly, they only problem with these jaffles… they just aren't big enough!! Maybe we could convince them to make mega jaffles! OR you will just have to order a few more!!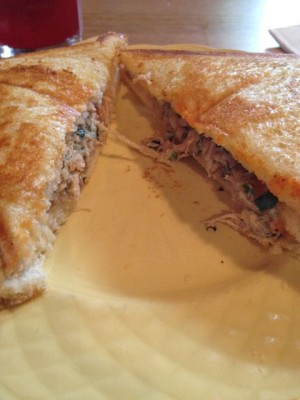 WOWOWOWOWOWOOWOW you cannot beat a perfectly toasted jaffle, good coffee and a shake! Thanks Little Rose – you rock!!