The 2012 Cookbook Challenge – at least one recipe from one book, every week, for the whole year!
Click here to see the adventures so far!
This weeks book!
Recipe 8 – Lemon Snapper with Horseradish potatoes
Gorgeous! Used the 'fish clamp' as I call it! So the fish cooked beautifully on the BBQ – any odea what I am going on about! A photo may help!!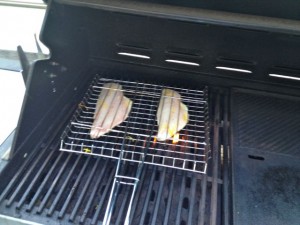 See Fish Clamp!!!
The fish came out stunning and tasty fabulous and went brilliantly with the potatoes in their creamy, horseradish dressing! I did use my fave salad cream instead of mayo and it was YUM!!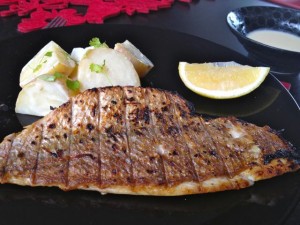 Amazing!
Recipe 7 – Spiced Beef patties with crushed pea salad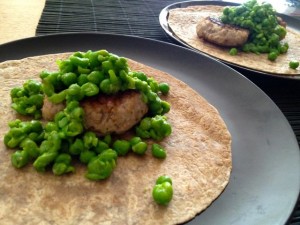 YUM!! Nice spice to the patties, different with the pea salad and very tasty! Top Tip – I remember a chef on tv who claimed he made the best burger ever and he recommended pushing your thumb into the patty when you put it in the pan – the dimple stops the burger from rising up into a ball shape!!!
It works!!
Recipe 6 – Egg and Bacon Rolls
With all good adventures there has to be some disasters! Fortunately with this one it tasted great….. it just looked a little less finessed than the picture!!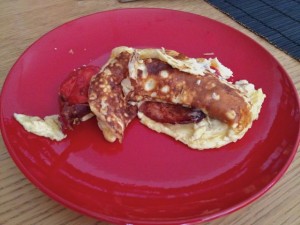 Maybe a different pan next time?!?!
Recipe 5 – Caramelised Chill Pork'
So easy and so gorgeous! Slowly braised in a stunning Asian flavoured broth, the pork is wonderfully tender and their is some great heat from the chilli! Fantastic!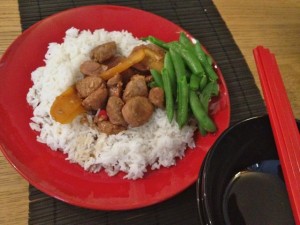 I totally agree with Donna;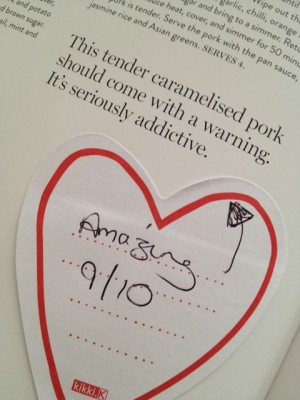 Recipe 4 – Easy Chocolate Mousse'
Or – the most amazing chocolate sauce EVER!!! My bad – didn't have enough icing sugar in the pot, made it anyway!! It is a very simple recipe and I am sure with all the right ingredients you can whip up the most amazing mousse and your Valentine will be even more impressed! Failing that put less icing sugar in and you get the most gorgeous, rich, silky choccy sauce too!!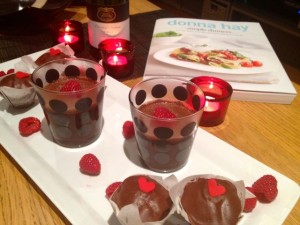 Recipe 3 – Mustard Steaks with Horseradish Rosti'
So yum! I love a good rare steak and coupled with a fantastic and really easy rosti and some dijon mustard and this was the perfect Valentines dinner at home!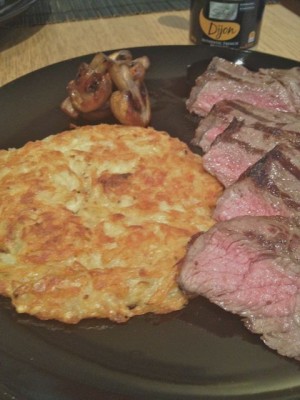 Recipe 2 – Prawn Spaghetti with lemon vodka sauce'
YUM! Super creamy pasta with gorgeous prawns and a zing of lemon and hint of vodka!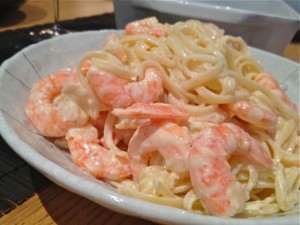 Recipe 1 – Chicken 'Pies'
A very lovely, rather indulgent gourmet sandwich! Good fun and great for a posh work lunch or picnic! Gorgeous chicken filling and overall great!!