Dandelion in Elwood is pumping! Though small there are plenty of lucky people at the tables and a few famous faces too! There is a relaxed vibe and the wall of green and buddha head add to the serenity even though the space is very loud!
The menu is wonderful! Lots of lovely choices to share with your friends at the table – something to nibble on?, wrap and roll bar, salads, pho and friends, family dishes, coconut grill and sides.
The wrap and roll bar is my kinda place! They all sound amazing! We order a couple and accidentally get the peking duck rolls instead of one of the dishes, the staff are great here and without hesitation the correct dish is ordered and the peking duck stays free of charge. It makes such a difference when the staff fix any issues without fuss – it can make or break a good night!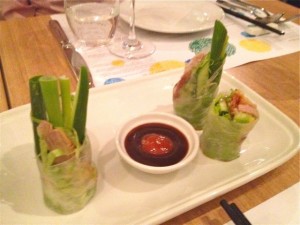 Those Peking duck rolls with spring onion, cucumber and hoi sin were the best mistake ever!! The Soft shell crab and avocado with Mrs T's magical sauce are phenomenal and the Cambodian pork and peanut sausage with cucumber and roasted nut relish rock my world!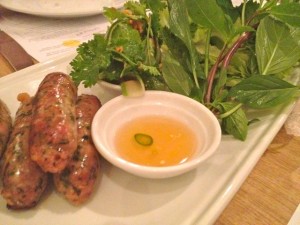 The crispy sesame and coconut rice papers with Hmong spiced eggplant are huge great crackers of fun! The first bite I wasn't sure but with the earthy eggplant dip they are pretty special!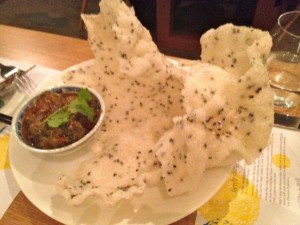 Next up is the 'Banh Tom' crispy baby prawn and sweet potato cakes with nuoc cham sauce, wrap them up with their lettuce and herb leaves and get plenty of the yummy sauce and bite into a mouthful of heavenly little prawns and sweet potato AMAZING!!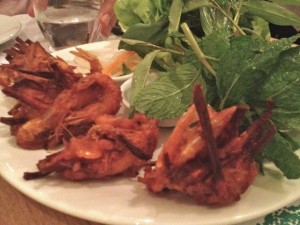 My piccie is not doing these babies justice!
The Wok fried sand crab with Kampot black pepper and spring onion comes with the required implements to dig through the claws and body to get access to the sweet gorgeous crab – just amazing and a little messy!!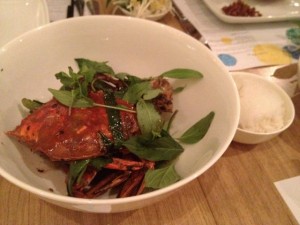 And then we get the amazing coconut braised goat with red date and goji berries, quail egg and daikon and a big old baguette roll! If I was on my own I might have made myself the most amazing goat roll ever but next time maybe! The meat is slow cooked to perfection and the favours are mild and luxurious hmmmmmmm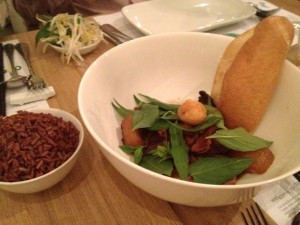 BUT hold the phone… the next whopping great plate of meaty fun is the BBQ Spare ribs with a refreshing lychee and mint salad – the salad is whipped to the side and we are going in! A whole rack of wonderous charred, sweet and messy ribs!!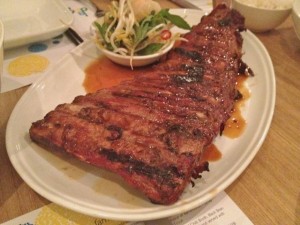 Soooooooo good!
The sweet potato fries with Vietnamese five spice salt are a fantastic extra for the table and we all love!!
The dessert menu is very tempting but we have very full bellies and it is getting late, though there are still plates of wonderful food coming from the kitchen at 10.30pm which makes a refreshing change!
Oh well, it gives us a reason to come back to try the Banana spring rolls with passionfruit sorbet and Cashew nut fudge and candied pomelo rind………