Head over the bridge and into Bannockburnshire to check out these views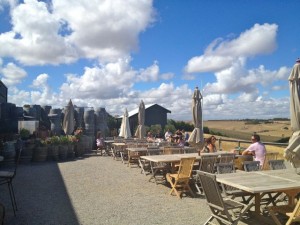 The outdoor area is stunning and the view spectacular! The pizza oven is flaming up and getting ready and it's a glorious day! But it is a little windy so we head inside.
Step inside the big barn building and you are taken into a large but intimate dining room, casual and comfy, barrels lining the room and a tasting table at the back of the room to work out the perfect wine to go with your lunch. It is nicely busy with large tables of people enjoying a relaxed Sunday lunch over a glass of very good wine!
For such a large space it isn't deafeningly loud and there is a guy playing music in the corner, he looks a little lonely but is doing a great job of providing some nice background music without disrupting anyones lunch.
The menu is great, I spot plates ladened with crunchy yummy calamari and very generous slaps of saganaki heading to the tables and we are very excited!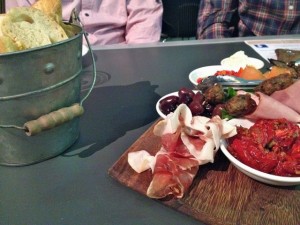 The antipasto is very reasonable at $33 for 4 there is a cute bucket full of lovely fresh bread and a board piled with marinated eggplant, semi dried tomatoes, artichoke, capsicum, mushrooms, mini meatballs, olives, ham, prosciutto and salmon.
Interestingly I learn that the life of a gluten free diner is no easy task! Even ham is a tricky choice due to the brine. Fortunately there is a gluten free pizza on the menu!
The Clyde Park Sauvignon Blanc is a great drop and the tables are full and lunch is in full swing!
The rest of the menu is a good selection of easy going dishes, fish and chips, burger, lamb salad, prawns in garlic and a great selection of wood fired pizzas.
I cannot go past the duck pizza, I recently asked how much was reasonable to pay for a pizza…. today I didn't hesitate at paying $31 for a pizza! It was gorgeous and HUGE!!
Tender succulent duck on a ginger base, spinach, red onion, generous mozzarella cheese all glistening and golden and hoisin sauce…. divine!!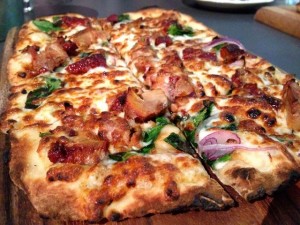 More than enough for two or three to share and enjoy and the tandoori pizza looks really good too!
The Regional 'Sher Wagyu' burger on a homemade brioche bun with lettuce, tomato, beetroot, gruyere cheese, bacon, relish and the most perfectly cooked 'Clyde Park' egg!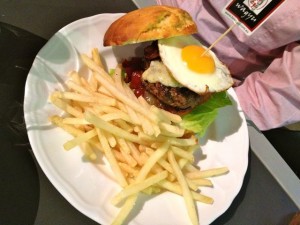 The burger is really juicy and fresh, it is a generous serve with plenty of shoe string fries YUM!!
The gluten free pizza looks great and has plenty of gorgeous seasonal vegetables and it's smiles all around the table!
No dessert for the adults today – tummy too full of amazing duck pizza but I do get dessert envy from the kids and their Bambino treats with real vanilla bean ice cream and a flake – too cute!
Now – top tip – the best view in the house… the bathroom!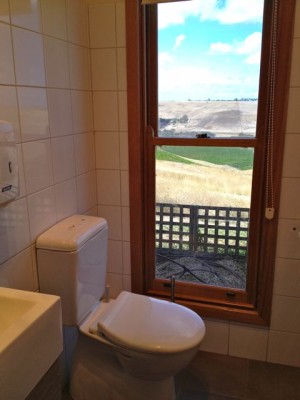 All in all a lovely place to spend a Sunday afternoon!
THE HIGHS: Amazing views, gorgeous pizza and wonderful wine
THE LOWS: N/A